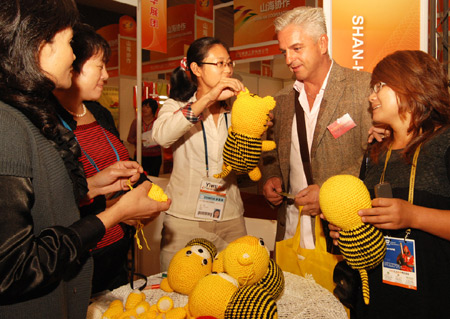 Over 2,500 Chinese and overseas firms are attending the Yiwufair this year.[China Daily]
Even as the rest of the world is grappling with the financial crisis, China's largest distribution center for small commodities in Yiwu, Zhejiang province, has pulled off a coup of sorts by garnering excellent international response for its annual commodities exposition.
The 15th Yiwu International Commodities Fair, which started yesterday, has over 5,000 international standard stalls this year, an increase of 500 over last year, said Chen Xiuxian, director, Yiwu International Commodities Fair Committee.
"The global financial crisis has affected overseas orders, but we have managed to maintain a robust growth rate," said Chen.
Figures from the local government show that in the first three quarters, the trading volume in Yiwu totaled 34.1 billion yuan ($4.99 billion), up 11.6 percent year-on-year.
Beijing Huimin Enamel Product Corp, an enamel goods exporter, is one of the companies that has been attending the fair continuously over the last four years. According to Wang Chunxia, general manager, Beijing Huimin, the new and broadened exhibition area is a sign of the excellent response the fair has received.
"Luckily for us, we were not that affected by the financial crisis. Due to our originality and creativity, our exports, mostly for supermarkets and schools in the United States, continued to grow," Wang said.
"Orders for enamel knickknacks have been booked till next Easter. The Christmas orders alone are worth 3 million yuan, up 10 percent from last Christmas, and we had to introduce night shifts to finish the products," she said.
"The key for surviving the financial crisis is to maintain stable exports and produce more value-added goods. In Huimin's case, they have managed to retain their clients with their good quality products," said Chen.
With participation from nearly 2,552 enterprises from home and abroad and over 5,000 international standard booths, this year, the Yiwu fair is showcasing 15 categories of goods including stationery, gymnastic instruments, toys, clothing and accessories. The fair is expected to attract as many as 110,000 visitors from over 130 countries and regions this year.
"Our goal is to build a platform of commodities for global traders to trade. Through our channel producers will be able to secure overseas orders, while overseas traders would be able to find reliable and unique suppliers," Chen said.
Related readings:


 Across China: Yiwu


 Yiwu sees fruits of Sino-African ties


 Trade volume down 5% at Yiwu commodities fair


 A new exhibition center opens for Yiwu Fair
Guangjing Hat Manufacturing Ltd from Qingdao is another beneficiary of the Yiwu fair and has seen its fortunes improve drastically after attending the expo last year.
"We forged connections with many high-end buyers from South America. Since then we have been flooded with global enquiries for our products," said a company official.
"This is the first exhibition we are holding after China emerged from the global financial crisis, and the Yiwu expo will be the yardstick to gauge the economic recovery," said Pang Wenfeng, head of Yiwu's publicity department.