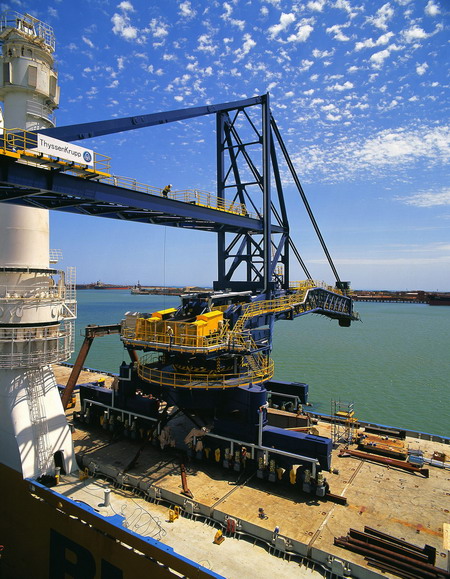 A heavy lift ship elevates FMG's shiploader at the company's Anderson Point port facility in Port Hedland in Western Australia. [Agencies]
Australia's third-largest iron ore miner, Fortescue Metals Group (FMG), is possible to stop offering Chinese steelmakers an earlier agreed-to price discount on its iron ore in the fourth quarter, a top company executive said yesterday.
FMG's move has dealt a blow to China's steel industry lobby, the China Iron and Steel Association (CISA), which had last Friday said that it was looking at separate negotiations with global miners on iron ore pricing for next year, rather than being clubbed with other countries on the issue.
This year's iron ore price negotiations hit a deadlock in June after CISA insisted on a better discount on 2008-09 prices after a 33-percent cut in benchmark iron ore prices had been set with other Asian steel mills.
FMG had settled an agreement with CISA in August for a higher discount during the second half of the year than what global mining giants Rio Tinto and BHP had offered to other Asian mills. FMG was the only global miner to offer a higher discount to China's steelmakers.
In return, FMG was supposed to get up to $6 billion in funding from Chinese investors to expand production.
However, after the final deadline for negotiations, FMG failed to get the necessary financing.
"We are still in discussions over how to price the rest (of iron ore) in the final quarter," FMG's Executive Director Graeme Rowley said in Australia yesterday during a media tour to the group's mines.
He said FMG had sold about 10 million tons of ore at the discounted price in the September quarter, but that it was no longer obliged to continue this pricing arrangement.
Although the lobby maintained last Friday that the long-term contract settled by China's steel enterprises and FMG were separate from any other financial agreements, FMG's statement on the matter gave little room for ambiguity.
"A condition subsequent to this agreement is the completion of finance by Sept 30, 2009, by Chinese financiers on terms acceptable to FMG," it said.
"FMG's stance may lead to a more difficult situation for CISA," said Yu Liangui, a senior analyst at consultant firm Mysteel. "Chinese steelmakers should talk to their Japanese and Korean counterparts on the right pricing arrangement with global miners."
In a related development, FMG also indicated that it might seek to blend its lumpy ore with Vale SA's fine ores to suit Chinese steel mills.
Vale has a diminishing supply of so-called lumpy ore and may benefit from mixing it with FMG's ore, Rowley said, adding FMG hasn't held any talks with Vale on a venture.
An employee at FMG who declined to be named said the company's proposal to blend iron ore was because lumpy ore contains a lower percentage of iron ore. Mixing with Vale's high iron ore content fine ores will reduce the procedures to achieve a marketable iron ore content percentage, and cut production costs, he said.