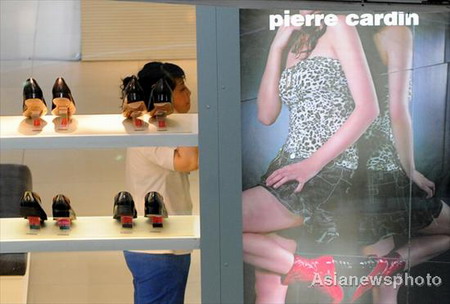 A Pierre Cardin shop in Shenyang, capital of Liaoning province. [Asianewsphoto] 
A Shanghai textile trading company has threatened to sue Pierre Cardin, the iconic designer of the French fashion house, for breach of contract.
Management for designer Cardin, whose brand of the same name was the first foreign clothing name to enter China in the early 1980s, had reportedly reached an agreement to sell the trademark in its entirety to Shanghai Century Star Import & Export Corp, which said that it planned to revitalize the diminished brand.
But talks between the two companies quickly soured when Shanghai Century Star discovered last week that the management of Pierre Cardin was holding separate talks to sell the right of its trademark to Cardanro, a shoemaker in Wenzhou, Zhejiang province.
Yao Yuming, a legal advisor to Shanghai Century Star, said yesterday said that his firm had already reached "an initial" agreement with Pierre Cardin officials on the terms of a sale in June.
In the negotiation, the Shanghai firm, a unit of State-owned China National Garments Group, had yet to agree on the final terms of the sale, but Yao said that the company had "already proceeded with the revitalization plan centering on a program of branding promotion and development."
Shanghai Century Star said it has secured the cooperation and support of more than 20 Pierre Cardin's major agents on the mainland to rebuild the brand into a top fashion name.
"That's why we insisted on becoming the sole owner of the brand," Yao said.
Yao said that Shanghai Century Star has made a strong request for Pierre Cardin to terminate its negotiation with Cardanro, which has reportedly offered 33.3 million euro ($50 million) for the right to use Pierre Cardin's trademark in its leather goods.
Qi Xiaozhai, director with Shanghai Commercial Economic Research Center, said the lack of international trade experience is the biggest hurdle that Chinese enterprises need to overcome when going abroad.
Related readings:


 Source: Four Chinese businessmen to buy stake in Cardin


 Chinese firms vie for Cardin brand


 Cardin takeover poses challenges for Chinese firms


 Pierre Cardin fashion show
"When signing deals with foreign companies, we should scrutinize every detail of the contract, to exclude any ambiguity or potential pitfalls. In Pierre Cardin's case, an exclusive agreement is very important for both of the Chinese companies to guarantee their benefits," said Qi.
Liz Wang, an executive and consultant from French-based marketing company said she doesn't think Pierre Cardin is still worth so much at the moment since it's no longer a stylish brand in the eyes of many young consumers.
"But if its Chinese buyer repackages and promotes the brand in a right way, the French brand might revive its former popularity among Chinese consumers. Furthermore, it's easier to rebuild a formerly well-known brand than start from zero," Wang said.
Cardanro could not be reached for comment but company officials have previously said that their agreement with Pierre Cardin is signed and they will try every means to secure their licensing right.