China is hoping to stifle excessive production capacity in six industries - including steel and cement - as the world's third-largest economy looks to keep its recovery on track, said the National Development and Reform Commission (NDRC), the country's top economic planner.
China's economy expanded more than 7 percent in the first three quarters, thanks in large part to the government's 4-trillion-yuan ($586 billion) stimulus package, said Xiong Bolin, a deputy department director from the NDRC.
Speaking at a news conference in Beijing yesterday Xiong said: "The stimulus plan has played a key role in the recovery."
And he said the country was well on the way to realizing its full-year growth goal.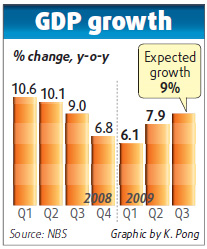 "Achieving a growth rate of 8 percent for the year is basically no problem," he said as statistics for September showed improvements in trade, housing sales, manufacturing and car sales.
The data suggests that resilience in retail sales and industrial production are helping to offset the blow to China's economy from falling exports.
But, despite the good news, production overcapacity still exists in steel, cement, glass, coal, the chemical industry, polysilicon production and wind power equipment and taking that out of the system is now seen as crucial to keeping the recovery moving.
Xiong said the NDRC will tackle the overcapacity by holding back approval or funding for projects.
The government's radical stimulus spending initiative has encouraged demand within industrial sectors - including steel and cement - because the investment has largely flowed into the construction of railways, roads and other infrastructure projects, Xiong said.
But Yao Jingyuan, chief economist with the National Bureau of Statistics, pointed out that the overcapacity problem is also a result of expansion between 2003 and 2007, when China's high growth rate, coupled with booming overseas demand greatly stimulated expansion.
"The global financial crisis has slowed China's economic growth rate and hurt global demand, causing the overcapacity problem," Yao said.
According to the statement issued by the NDRC and nine other ministries, banks have been told not to lend money to projects that violate government guidelines. Those projects are also barred from raising money for unauthorized expansion through either bonds, short-term bills, medium-term notes, convertible bonds or equity offerings.
The statement calls upon local governments to withhold investment in the six industries.
"In the near-term, monitoring and supervision will be very tight," said Ken Peng, an economist with Citigroup in Beijing." Policymakers are concerned about over-investment but implementing the measures depends on local authorities, and it will not be easy."
Related readings:


 8% GDP growth goal for 2009 achievable - former banker


 Wen: 8% GDP growth goal achievable

 Govt on track to reach GDP growth goal


 Beijing sets annual economy growth goal at 9%
Separately, Yu Bin, a senior researcher with the State Council-affiliated Development Research Center, said at a conference during the weekend that growth was forecast to exceed 9 percent in the second half of the year, the financial magazine Caijing reported yesterday.
"The internal and external environment for China's economic growth will be better next year," Yu said.
The upbeat comments helped push China's main share benchmark, the Shanghai Composite Index, yesterday to a one-month high of 3,038.27, up 61.64 points or 2.1 percent.