Born as the scion of one of Macao's more wealthy and powerful families, the primary task for 33-year-old Lawrence Ho remains taking care of the interests of his shareholders and growing the assets of the resort empire he created.
"As a Macao-based company, we can offer a unique, new-generation entertainment resort with Asians' likes in mind," Ho, CEO of NASDAQ-listed Melco Crown Entertainment (MCE), told China Business Weekly.
MCE, the developer of the comprehensive leisure and entertainment Macao resort called the City of Dreams, is hoping to lure more tourists from the affluent Yangtze River Delta area to help boost the tourism and conference sectors of the special administrative region (SAR).
Ho, who recently was in Shanghai to promote the $2.1-billion City of Dreams, said his company will continue its investments in line with the SAR government's call to help build Macao into a quality leisure and tourism destination that offers multiple entertainment choices.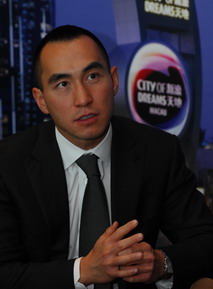 Lawrence Ho
Unlike the US-based Sands Group's Venetian Macao Resort Hotel, Ho said the City of Dreams is dedicated to catering to the needs of Asian tourists - its core customers.
Ho said it's not about competition. "Macao is already the biggest entertainment city in the world. That's why we developed a product that is complementary to what others are doing by focusing more on entertainment and attractions," he said.
The MCE resort received 3.5 million visitors within three months after its launch, with an average daily reception of 37,000 people. About half of the resort's visitors come from the mainland.
Shanghai has always been a destination for tourists traveling to Macao. Statistics from Air Macao showed that, by the end of August, more than 80 percent of daily passengers on board Air Macao flights between Shanghai and the Macao SAR were tourists from Shanghai and neighboring areas.
Ho, who is the son of Macao business tycoon Stanley Ho, said that MCE is considering launching a third-phase development of City of Dreams next year.
The third phase would feature an apartment hotel consisting of approximately 800 units, depending on financing for the project.
Ho said he is optimistic about the future performance of City of Dreams, as the economic crisis has hit bottom, and the mainland and Macao economies are currently recovering.
"I think the timing is quite good, since Macao's tourism started rebounding in July or August, showing a year-on-year increase," he said.
Related readings:


 Measures to boost cross-Straits exchanges


 Macao eyes curbs on its booming gambling industry


 Record high for Beijing outbound tourism


 How can we draw more from tourism
Although nearby Singapore is also vying to become a world expo center, the SAR has its own advantages, Ho said.
"Macao has its own geographic advantage. About 2 billion people reside in an area within a three-hour flight to the SAR, and it has more than 40 years' experience in the entertainment and tourism sectors," Ho said.
The Chinese mainland has become the most important source of tourists for the SAR.
Statistics from the Macao SAR government show that among 23 million visitors to Macao last year, 12 million were from the mainland.
Open for business on June 1, the City of Dreams features a 39,019-sq-m casino, more than 20 restaurants and bars, world-class retailers and landmark hotels such as a 300-room Crown Towers and a Hard Rock hotel.