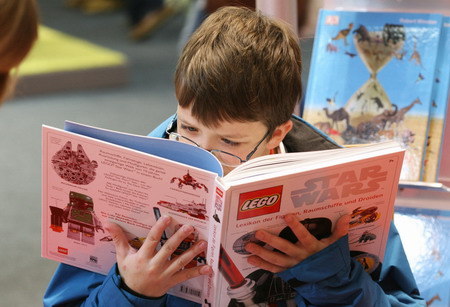 A boy reads a book on Saturday at the International Book Fair in the central German city of Frankfurt, where China is this year's guest of honor. [Agencies]
There may have been fewer exhibitors and visitors than previous years, but that did not stop China from making a massive impact as guest of honor at the world-famous Frankfurt Book Fair, which closed yesterday.
Despite an understated 2009 event due to the global financial downturn, the Chinese delegation reaped a harvest of copyright deals and did a record number of export deals.
By Friday, the copyright to more than 1,300 books had been sold to foreign publishers, while Chinese firms had signed up to import 883 overseas titles, said Zhang Fuhai, director of China's guest of honor committee.
Among the works to be exported are ancient books on Chinese culture and history, the nation's Scientific and Technological Development Roadmap, and the novel King Gesar, penned by popular Tibetan author Alai.
Besides copyright trade, the Chinese delegation also held many successful symposiums, public readings by authors and art exhibitions.
"China has done something far better than any previous guest of honor at the fair," said Stephen Bourne, chief executive of Cambridge University Press, which signed a deal with China Intercontinental Press to import a series of books entitled Cultural China.
"There is now an understanding among foreign publishers that China is very serious about getting its culture and knowledge to the West. It's a message that started to come out three years ago but has really made an impact at this year's fair."
China's publishing industry has grown remarkably since its opening-up policy.
Related readings:


 "History of Chinese Printing" makes world debut in Frankfurt Book Fair


 Translated works of former leaders hailed at book fair


 Chinese publishers set copyright trade record at Frankfurt Book Fair


 Xi attends Frankfurt book fair
The number of titles published annually in China has gone from around 10,000 in the early 1980s to 275,000 last year, with total copies rising from 3.7 billion to almost 7 billion, according to the General Administration of Press and Publication.
But it is only in recent years China has started international copyright trading, following the nation's membership to the Berne Convention for the Protection of Literary and Artistic Works and the Universal Copyright Convention in 1992.
Wang Ziqiang, director-general of the administration's copyright department, said the ratio between China's imported and exported book copyrights was around 6.5 to 1 last year, up from 15 to 1 in 2002.
He blamed the lack of good translations and the failure in selecting topics that suit international markets.
"We need to have more international scope and select books from the angles of foreign readers," added Huang Youyi, editor-in-chief of the China International Publishing Group. "To do that, our group is now cooperating with foreign publishers from the start to plan new projects."
This year's Frankfurt Book Fair also provided fresh ideas, he said, explaining: "In the past, we exported mostly books about traditional Chinese culture, but Western readers are more interested in contemporary China."
He said to meet demand his group will produce more books on China's economic development, government policies and language.