Editor's note: The global financial crisis has forced more poor people into poverty and climate change has been playing havoc with farming. As a result, the number of hungry people across the world has crossed 1 billion for the first time.
Today is World Food Day, and its theme this year is: "Achieving food security in times of crisis". UN officials say that by 2050, when the world will have more than 9 billion people, food supply will have to increase 70 percent.
The World Food Programme (WFP), the world's largest humanitarian agency fighting hunger, has been feeding about 10 per cent of the world's population for decades. But this year it is unlikely to reach that target because of a severe shortfall in budget. It has had reduce rations in some countries, and suspend its program in others. So far, donors have contributed only about $2.9 billion to WFP's 2009 budget of $6.7 billion.
But how will humans meet the challenge posed by hunger? And how can China contribute to world food security? Shelila Sisulu, deputy executive director of WFP, shares her views with China Daily's Zhu Ping and Wang Yiqing on these questions.
Q: What is the mission of your trip to China this time?
A: Apart from introducing (legendary gymnast) Li Ning as World Food Program's (WFP) ambassador against hunger, I'm visiting China also because this year is the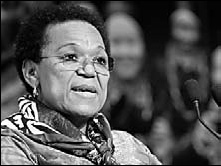 30th anniversary of WFP's ties with China.
What's more significant is that we are now asking
China for help, and China has already intensified its support to our work in other parts of the world, mostly countries in Africa. Apart from the donations, which are most welcome, we think lots of lessons can be learnt from China on food security and we want to share that with other countries.
Q: What exactly can China share with other countries?
A: Agriculture is vital to governments, which should not only support farmers, but also improve infrastructure, training and the market. China's efforts in these areas have been tremendous.
We think it is very important that countries include agriculture as part of their security. They must make food accessible to babies and pregnant women, and provide teenaged girls and children with food in school as part of their agricultural plan. I think the big plan of agriculture is a big lesson China can share with other countries.
Q: How seriously has the global financial crisis hurt the worlds' food supply?
A: Many countries that we work with were already facing a food crisis, and the financial crisis has made it even worse. The food crisis has become a triple crises: Financial crisis, environmental crisis and food crisis. That's because many communities with vulnerable food security depend on money being transferred to them to buy food or grow food.
Related readings:


 The food crisis will be back


 UN urges active response to food crisis


 Half the planet could be hit by food crisis by 2100


 Financial crash deepens food crisis
After the financial crisis struck, the money people in those regions previously had was not enough to buy food, which has led to an even deeper food crisis. Food prices may be stabilizing in some parts of the world, but in many African countries they have risen and stayed at a high level because of the financial crisis.
We are still seeing the effects of the financial crisis because its impact on the developing world is delayed. I think that in some countries the crisis has just begun.