The vice-chairman of the Ningxia Hui autonomous region, Li Tangtang, is being investigated for possible corruption, the country's top discipline watchdog said yesterday.
Li is suspected of "serious violation of discipline," the Communist Party of China Central Commission for Discipline Inspection (CCDI) said, employing the Party's standard shorthand for graft and abuse of power.
Li is the second vice-ministerial-level official to come under such investigation after celebrations of the 60th anniversary of the People's Republic of China on Oct 1.
On Tuesday, the CCDI also said Song Yong, deputy director of the Standing Committee of the Liaoning Provincial People's Congress, was being investigated for "seriously violating discipline".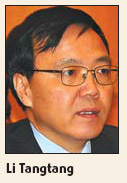 Li, 55, has been in charge of education, culture, broadcasting and printing since he took office last May in Ningxia, whose population is dominated by Hui Muslims.
Prior to that, in 2006, he was elected vice-governor of Shaanxi province, where he had worked for 23 years.
In 2007 in Shaanxi he received "a severe inner-Party warning" from the CCDI for breaking election rules.
To get into the standing committee of the Shaanxi Provincial Party Committee during a reshuffle at the end of 2006, Li lobbied eight officials in the provincial and city governments and tried to manipulate votes, according to Oriental Outlook, a magazine under Xinhua News Agency.
Related readings:


 Official in NE China gets life sentence for corruption


 Nuclear official allegedly involved in 1.8b yuan corruption case


 Official stresses anti-corruption efforts in banking sector


 Shanghai official given life imprisonment for corruption
However, the warning was not revealed to the public. Soon after, Li left Shaanxi for Ningxia, a poor region with an heavy agriculture-led economy.
China continues to fight corruption.
Liu Mingbo, director-general of the CCDI's research bureau, said last month that the Party agreed that officials should declare their homes and investments, and their spouses' jobs and incomes, to prevent graft.