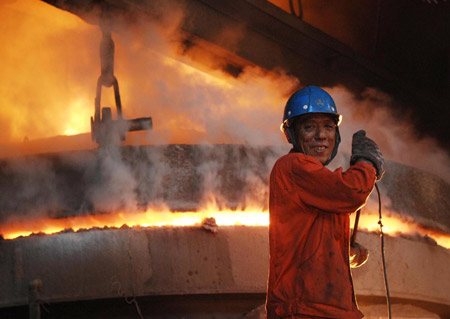 The government plans to curb excess steel production capacity since China faces severe oversupply. [China daily]
Global mining giant Rio Tinto yesterday reported a jump to record levels in iron ore output in the third quarter due to growing demand from steel makers, mainly from China.
Rio's production of iron ore climbed 12 percent year-on-year to a record 47.5 million tons in the third quarter, the company said in a statement yesterday.
It expects to produce between 210 million to 215 million tons of iron ore this year, up from the previous estimate of 200 million tons.
The company said the jump in iron ore output indicates strong demand from steel makers. "Shipments to all major markets, including the largest single market, China, were maintained at a high level," it said.
"We are seeing early signs of a recovery in some of our key markets, although we remain cautious about the near-term outlook," said Rio's Chief Executive Tom Albanese.
China's iron ore imports touched 64.5 million tons in September, up 65 percent year-on-year and 30 percent month-on-month, the Customs said on its website yesterday.
"The high imports in September not only reflects strong steel output, but also compares with large orders made in June and July when iron ore spot prices were relatively lower," said Yu Liangui, a senior analyst at consulting firm Mysteel.
China's steel production climbed to a record in August, leading steel makers to deplete iron ore supplies. The government has detailed plans to curb excess capacity since the nation faces severe oversupply.
The government may have detailed plans on how to close obsolete mills, speeding up mergers and reducing iron ore import licenses by the end of this year, Deng Qilin, general manger of Wuhan Iron & Steel, said on the sidelines of the World Steel Association annual meeting on Tuesday.
Related readings:


 China's crude steel output hits record high in August


 China's steel output, prices up in May


 China's March crude steel output stays high


 Steel output recovers in first two months
Steel prices in China, which hit a 10-month high in early August, have fallen so far due to oversupply. Wuhan Iron and Steel has cut its November rates for major steel products by up to 400 yuan ($
58.59
) per ton compared to October, Umetal said.
However, analysts said that falling steel prices would not affect iron ore demand.
"Most steel mills won't make cutbacks despite falling steel prices as they are still profitable," said Hu Kai, analyst with Umetal. "The declining steel prices might only affect iron ore spot prices in the near term, rather than demand."