As a result of the government's monetary easing policy to counter the global financial crisis, the scale of new loans was increased by another 1.5 trillion yuan ($ 168.44 billion)in June following an increase totaling 5.8 trillion yuan from January to May.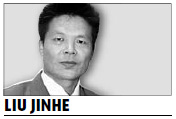 However, whether the expansion will be able to continue is under scrutiny as the policy has had a limited effect on the real economy.
The free capital in the market has already been saturated, resulting in the overheating of the financial and real estate markets, as well as overproduction and the development of a financial bubble.
A re-adjustment of the current policy is needed, because an excessive expansion of loans in a short period of time can only fuel the continued uncertainty about an economic recovery and industrial reconstruction.
According to statistics from the People's Bank of China, the scale of yuan loans by financial institutions during the first half of 2009 exceeded the annual target of 5 trillion yuan to total 7.3 trillion yuan.
The balance of broad money "M2" by the end of June 2009 was 56.2 trillion yuan, an increase of 28.5 percent from the previous year and a 10.6 percent increase and 2.7 percent increase from the end of 2008 and the previous month, respectively.
An increase in market liquidity will lead to the speedy recovery of stock and real estate markets. China's stagnant A stock exchange price index stock has risen more than 60 percent in the last six months, exceeding a daily turnover of 200 billion yuan.
Real estate prices
And due to the revitalization of the real estate industry in major cities such as Beijing and Shanghai, the price of land and housing has gone up to the same level as it was in 2007 when it was at its peak.
However, despite the encouraging state of the stock and real estate markets, many small and medium-sized businesses continue to face financial difficulties, as they are not considered desirable candidates for government loans.
Related readings:


 PBOC: Stick with 'moderately loose' monetary policy


 China to continue loose monetary policy


 Ignore monetary policy at your peril

 It all boils down to monetary policy
Instead, the majority of funds are supporting large government-owned businesses, causing an increasing drift between the "sufficient funds" of government-owned businesses and the "insufficient funds" of small and medium-sized businesses.
The government's loan easing policies produced some negative effects on certain parts of China's economy.
Considering that the main culprit behind the slowdown of the Chinese real economy was its fragile economic structure, it would be difficult for China to recover its economy through the expansion of loans.