It is hard to be very optimistic about China's proposed stock market for startup companies. After all, similar attempts in other countries have a decidedly mixed track record. Why would China, where small private companies face an uphill battle against State-owned firms, be any exception?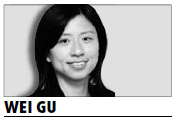 Nevertheless, there are reasons to believe that the startup market, set to debut in October, offers better potential than previous efforts in Singapore, Germany and Hong Kong.
The country has a big reservoir of fast-growing small companies with real profits. In the past, they have opted for listing on foreign exchanges such as NASDAQ. Though they were attracted by the prestige of a foreign listing, they also faced a home market that favors size over quality.
Indeed, China, home of Internet stars such as Baidu and Sina, is the second-largest foreign supplier of companies to NASDAQ.
But the exodus has almost ground to a halt. China has tightened its grip on foreign listings because it wants to keep the best companies at home. Only companies that already have overseas structures can list their shares abroad, but even then they have to jump through a lot of regulatory hoops.
Obtaining a domestic listing will become much easier, since China has ambitious plans to float hundreds of companies on the new market each year. Maintenance fees are lower and disclosure requirements are less stringent when listing at home.
And companies will not necessarily need to compromise on valuations. Chinese equities routinely trade at a premium to their foreign counterparts, because there is a lot of liquidity chasing a limited pool of stocks.
Although institutional participation is likely to be limited because of the small size of most startup companies, the new market is expected to draw in a large number of retail investors who favor more volatile small-caps.
No wonder about 150 companies have already lined up to list on the new market. With a potential universe of 50,000 private companies nationwide, there will be no shortage of new supply in the next few years.
Chinese stock market regulators are wary of the lack of success by Western countries in creating markets capable of funding early-stage companies.
Easdaq, Europe's answer to NASDAQ, rumbled along for years before finally disappearing. Germany's Neuer Markt, launched during the dot-com boom, soared and then collapsed along with the rest of the stock market bubble.
In an effort to make a good start, the regulator has picked companies with the best track record of sales and profit growth for the first batch of listings. Most of them already qualify to list on the market for small and medium-sized companies, which is also part of the Shenzhen Stock Exchange.
The first 13 companies to go public almost look a bit too old-fashioned, with leading positions in markets such as railway transport electricity systems, lithium batteries, and medical devices. However, being boring is actually better than being too adventurous at this stage.
Chinese authorities have set the standards for listing on the new market much higher than Hong Kong's growth enterprise market to avoid overly speculative companies. Like NASDAQ, China requires companies to have a three-year operating record and a history of profitability.
Yet, while it is good to set the bar high, it is even more important to keep it there by de-listing companies promptly if they fail to comply with listing rules.
One of the major reasons that the mainland market has a lot of moribund companies is because the regulator does not force de-listing. American exchanges de-list hundreds of companies a year.
China has finally given the green light to the market for startup companies after 10 years in preparation because it understands that small private companies, the most vibrant sector of the economy, will be the drivers of China's next stage of growth. It also does not want to wait until the market gets too hot, since then there will be more speculative behavior.
Most of these markets suffer because they cannot attract a sufficient number of long-term institutional investors, so they end up as either illiquid or relying on more speculative retail investors. This will be an even bigger problem in the retail-driven Chinese market.
Although the startup market is necessary to provide some much-needed funding for small enterprises, China should avoid getting too ambitious.
Related readings:


 10 firms ready for IPO on China's NASDAQ


 NASDAQ-style listing finally comes to China


 China to launch Nasdaq-style second board
There were initial talks about bringing as many as 500 companies public a year. But at that speed, disclosure and approval standards will inevitably be compromised.
The low success rate of markets for startup companies has underscored the importance of not getting carried away.
Early investors will walk away at the first sign of disappointment, and the markets are rarely granted a second chance. China should concentrate on getting off to a good start and build up its new market slowly.
The author is a Reuters columnist. The views expressed here are her own.