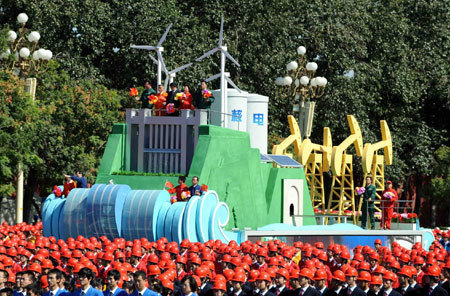 Surrounded by energy workers, a float carrying the sculptures of windmills and oil reserve containers, moves past Tian'anmen Square at the magnificent pageant marking New China's 60th anniversary of founding. [Xinhua]

New energy and renewable energy accounted for nine percent in China's energy structure in 2008, while coal took up 69 percent and oil and natural gas 22 percent, according to the National Bureau of Statistics.
China's new energy and renewable energy, including hydropower, nuclear power, wind power and solar power, have boomed in recent years.
The country's installed capacity of hydropower topped 170 million kw in 2008, the biggest in the world. Hydropower percentage in overall energy structure soared from one percent in 1949 to 7.4 percent in 2008.
Related readings:


 Solar panels at parade highlight changes in China's energy use


 Reaping wind power joins energy rotation


 Flipping the solar power switch


 Sino-US solar power deal generates optimism

China reported 8.85 million kw of nuclear power installed capacity in use. The country now has three nuclear power stations: Qinshan in Zhejiang province, Dayawan in Guangdong province and Tianwan in Jiangsu province.
Wind power installed capacity topped 12.21 million kw, ranking the fourth in the world.
China's solar power sector also made remarkable progresses. The sector produced more than 6,000 tonnes of polycrystalline silicion (a key material in producing solar power) and 2 million kw of solar photovoltaic cells in 2008.