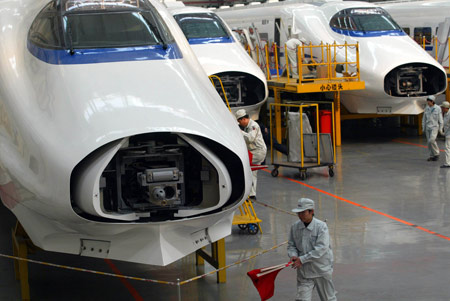 Bombardier's share of the contract is estimated at 13.5 billion yuan. [China Daily]
China South Locomotive and Rolling Stock Corp (CSR) said yesterday that two of its affiliates have won contracts valued at 72.4 billion yuan from the Ministry of Railways.
Subsidiary CSR Bombardier Sifang (Qingdao) Transportation Ltd, a joint venture of Canadian train maker Bombardier and CSR Sifang Locomotive and Rolling Stock Ltd, signed a 27.4 billion yuan contract with the Shanghai Railway Bureau, under which the company will build 80 high-speed trains.
The order for Bombardier Sifang's trains, which has a maximum operating speed of 380 kilometers per hour, consists of 1,120 cars. The first train is scheduled for delivery in 2012 with final deliveries expected in 2014, the company said.
Bombardier's share of the contract is estimated at 13.5 billion yuan. The deal includes 20 eight-car trainsets and 60 sixteen-car trainsets based on Bombardier's next-generation ZEFIRO high-speed rail technology. The trains will be manufactured in Qingdao, Shandong province.
Related readings:


 Taipei Mayor wants Bombardier to fix Neihu Line


 Chinese company seals deal with Bombardier


 Bombardier bids to do battle with aviation goliaths


 Bombardier to help China Aviation develop new jet models
Similarly, subsidiary CSR Qingdao Sifang Locomotive and Rolling Stock Ltd also secured a 45-billion yuan deal yesterday from the Wuhan Railway Bureau to build high-speed trains for the country.
"The 72.4-billion yuan deal is consistent with market expectations," said Yu Aibin, an analyst at Guosen Securities. "The volume is actually a bit smaller than we expected so we'll see more deals signed in the future but they are not going to be as big as this one."
"This is an important win for Bombardier as it increases the company's share in the high-speed rail market segment," Cameron Doerksen, a Montreal-based analyst with Versant Partners, was quoted by Bloomberg as saying.
Established in 1998, the Bombardier Sifang joint venture has delivered more than 1,000 passenger rail cars into China since its inception, including a range of high-speed trains and high-grade passenger coaches. In 2007, the company won a $1.5-billion contract from the Ministry of Railways, the largest single order for rail passenger cars in China.
"We are very pleased to be delivering leading-edge very high speed rail technology through Chinese expertise and resources. This illustrates the strategic importance of delivering the most advanced rail technology for China from within China," said Pierre Beaudoin, Bombardier's CEO in the company's statement.