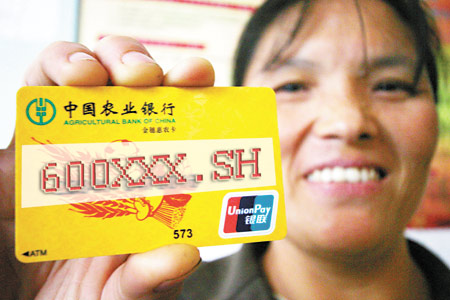 The bank is still mulling whether to seek a dual listing in Hong Kong or not. [China Daily]
Agricultural Bank of China (ABC), the only Big Four bank on the mainland that has yet to get listed, could float its shares on the Shanghai bourse as early as May or June of 2010, said sources with knowledge of the matter.
"Besides listing on the mainland market, whether to seek a dual listing in Hong Kong is still under discussion," one source said, contrary to some earlier reports which said the bank would not float its shares on the Hong Kong H-share market.
The bank would introduce only one strategic investor, which will be a financial institution from within the country, ahead of its initial public offering, the source said. That differentiates ABC from China's other three major lenders, the Industrial & Commercial Bank of China, Bank of China, and China Construction Bank, all of which had brought in several foreign banks as strategic investors before their listings a couple of years ago.
There had been rumors earlier that ABC was in talks with French bank Credit Agricole SA as well as US banking giant Wells Fargo to set up strategic partnerships.
Related readings:


 It's ABC for top insurer


 Agricultural Bank of China '08 net profit up 17.5%


 Agricultural Bank won't cut staff or branches before IPO


 Agricultural Bank of China Limited established
But as these two banks were battered by the financial crisis, they were taken off the potential list of would-be strategic investors.
Domestically, China Life Insurance, the nation's largest insurer, had earlier expressed its keen interest in buying into ABC, making it the top contender for becoming the bank's strategic investor.
As for the underwriters for the long-awaited issue, China CITIC Securities and China International Capital Corporation could very well be the likely choices, according to another source familiar with the matter.
The two have been ABC's financial advisors for its restructuring in the past few years, which have gained them an upper hand in competing with other underwriters, the source said, meaning they might have won the ABC IPO deal from other major rivals, including China Galaxy Securities and Guotai Junan Securities.
The bank, which once had a record high non-performing loan ratio of 23.5 percent at the end of 2007, has seen its asset quality improve over the past year. It wiped off 800 billion yuan in bad assets late last year, driving its bad loan ratio down to 4.32 percent at the end of 2008.
In preparing for the IPO, the bank also received a $19 billion capital injection from Central Huijin, the domestic investment arm of China's sovereign wealth fund last October, making it 50 percent owned by the latter.