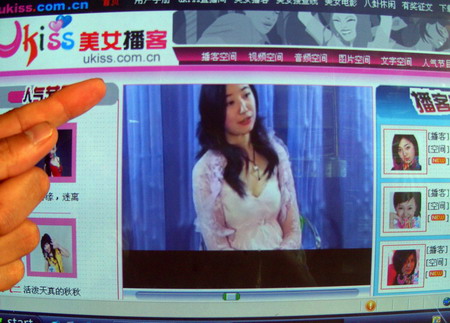 A video page of the website ukiss.com. The competition in China's video sharing market has intensified with the Chinese website Sohu.com suing video-sharing website Youku.com for allegedly broadcasting unauthorized videos.[Asianewsphoto]
The competition in China's video sharing market has intensified recently with a Chinese YouTube copycat being sued for piracy by a group of online video copyright owners.
On Sept 15, the Chinese news portal website Sohu.com filed a lawsuit against one of the country's larger video-sharing websites, Youku.com, for broadcasting unauthorized videos of 503 Chinese movies and TV dramas.
The company, together with video websites Joy.cn and Voole.com, formed an anti-piracy group that pledged to file a series of lawsuits in coming months against companies including Tudou.com and Xunlei, which were also accused of streaming unauthorized videos on their websites.
Charles Zhang, CEO of Sohu.com, said at the launching ceremony of the China Online Video Anti-Piracy Alliance on Sept 15 that the group has started collecting evidence of illegal streaming of about 1,000 films and episodes of television programs.
The alliance also filed a lawsuit over beverage giants PepsiCo and Coco-Cola for posting advertisement on a page of the Youku.com website where pirated video allegedly was available.
Unlike their foreign counterparts, Chinese video-sharing websites rely heavily on videos such as films and soap operas, partly because comparatively fewer Chinese users record and post their own video clips on the Internet.
That has made Chinese websites more prone to copyright disputes and in direct competing with legal video streaming websites.
Youku.com, whose founder Victor Koo was the president of Sohu.com in 2004, said the company respects legal contents and hopes to cooperate with copyright owners.
Related readings:


 Major anti-piracy case decided


 10 jailed for piracy in Hong Kong


 Microsoft wins piracy lawsuit


 HK anti-piracy raid nets 43,000 illegal discs

The company has formed partnerships with many local television stations in China and spends about $10 million every year on purchasing copyrights of popular movies and television dramas, the company said.
According to figures from domestic research firm Analyses International, market revenues of China's online video industry reached 122 million yuan in the second quarter of this year - up 57.2 percent from a year earlier.
Due to China's rampant piracy, copyright owners in the country gain most of their income from movie theaters and domestic television stations and very little from DVD sales.
That has led them to work actively with Internet companies to promote their business online.
Google China, for example, has launched a legal music service in China by partnering with major label companies such as Universal and EMI. The service, which is the first around the world, is free, funded by online advertisements.
Encouraged by the success of companies such as Youku.com and Tudou.com, Sohu.com has significantly increased its investment in recent years in the online video business.