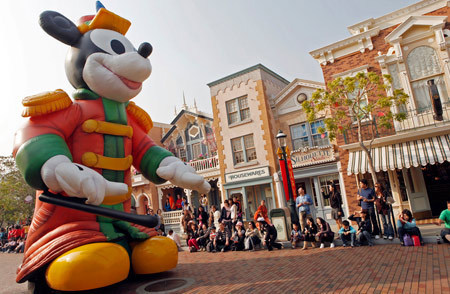 Tourists watch Disney on Parade at Hong Kong Disneyland. Under a new plan, work will begin by the end of this year on three new theme areas that will add 5 hectares to the theme park's current size of 22.4 hectares. [Agencies]
Hong Kong Disneyland, the world's fifth Disneyland theme park, is going to provide guests more adventure with plans to expand the attraction.
With an HK$6.25 billion investment, the recently announced expansion will be under way by the end of this year and take about five years to complete, said Andrew Kam, managing director of Hong Kong Disneyland.
After the expansion, the Hong Kong special administrative region government will hold 52 percent of shares in Hong Kong Disneyland, with Walt Disney Co holding the remaining 48 percent.
Under the plan, three new theme areas will be added to Hong Kong Disneyland, increasing the size of the park by 23 percent, or 5 hectares, from its current 22.4 hectares.
Three new theme parks
The three new themed areas are "Grizzly Trail", "Mystic Point" and "Toy Story Land", which will increase the number of attractions from 30 to more than 100, Kam said.
"Grizzly Trail" will bring guests to an abandoned gold mining town in the Old West of the United States. One new ride, the Big Grizzly Mountain Coaster, will travel through fake forests and mountains.
"Mystic Point" will be set in a fake tropical rainforest. Visitors will be able to visit a place called Mystic Manor, which will contain rare antiques collected by its owner, a lonely adventurer.
"Toy Story Land" will be based on the popular Disney film, Toy Story. At this attraction, guests can walk past life-sized toys or take a ride on the Toy Soldiers Parachute Drop, which is about 25 m high.
Kam said that "Grizzly Trail" and "Mystic Point" will be exclusive among the Disney theme parks, while "Toy Story Land" is limited to parks in Asia.
Related readings:


 Disney yet to get nod for park in Shanghai


 Disney, Hong Kong reach $465m expansion deal


 Disney puts Hong Kong expansion on hold


 Ticket price increases at HK Disney

"The planned new attractions will be focusing on young people ages 18 to 25. Although Disneylands across the globe always place an emphasis on children and family interaction, we noticed that an increasing number of young people are very much interested in theme parks and have much potential as consumers," Kam said.
Since it opened in 2005, more than 17 million tourists have visited Hong Kong Disneyland.
Tourists from the mainland account for 33 percent of those visitors, and overseas tourists account for about 60 percent, according to statistics released by Hong Kong's government.
Hong Kong Disneyland brought the region HK$30 billion in economic benefits and created more than 10,000 jobs during the past four years.
"It is estimated that the expanded theme park will bring Hong Kong net economic benefits totaling around HK$64.7 billion to HK$117.3 billion over a 40-year period," Kam said.
Hong Kong Association of Travel Agents Chairman Michael Wu previously said that Disney's expansion will not dramatically increase the number of visitors to the city, but it will help the city's tourism sector remain competitive.
Many Chinese enterprises, are aggressively looking for opportunities in theme park construction and operations, Kam said.
"Disney has gained lots of popularity through its quality cartoon movies and vivid cartoon characters. Storytelling is the DNA of Disney dreams, and it is Disney's major advantage," he said.
"We tend to use various methods to bring guests to a cartoon world and to be a part of their favorite cartoon films," Kam said. "That's a unique element which visitors cannot find in other parks, and it also cannot be replicated."
A planned Disneyland theme park in Shanghai is reportedly awaiting approval from the central government.
Kam said that economic growth will boost the theme park market as mainland residents spend more time and money on entertainment.
He added that Hong Kong Disneyland is an international park targeting guests from Southeast Asia in addition to the mainland visitors.
However, investments in theme parks can take a long time to produce profits.
Since 2005, Hong Kong Disneyland reportedly is operating at a deficit.
But Kam said the expansion and growing numbers of visitors make him confident that the park will balance its expenses and revenues by 2014.