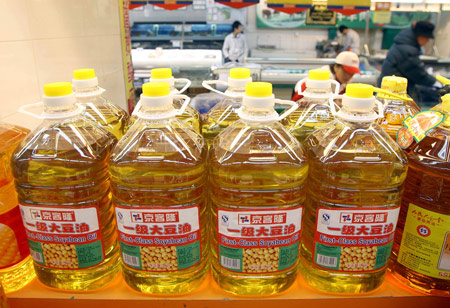 Bottles of soybean oil are for sale at a supermarket in Beijing. US exporters sold 16.9 million tons of soybeans as of Sept 3, of which 10.2 million tons were bought by China, the biggest buyer of US soybeans. [Bloomberg News]
China's imports of US soybeans are unlikely to be affected by a trade dispute between the two countries over exports of Chinese tires, said Li Ming, general manager of the agriculture trading and logistics department of China National Cereals, Oils & Foodstuffs Corp (COFCO).
Concern spread earlier this month that US tariffs imposed on tires from China would spark a retaliatory slowdown in purchases of US crops and farm products.
The US placed tariffs of 35 percent on tires from China early this month, acting on a union complaint that imports were pushing workers out of jobs.
Following the US actions, China announced a probe into the alleged dumping of American automotive and chicken products.
China is the biggest buyer of US soybeans and the second-largest importer of poultry and pork.
Related readings:


 Soybean imports set to rise


 Cold soybean auctions may prompt hot actions


 COFCO setting up soybean processing plant in Guangxi

 Chinese soybean producers lose out
Soybean growers in the United States, the world's biggest supplier, want to increase livestock feed sales to small landowners in rural China to help boost exports, the United Soybean Board reported.
China's feed industry consumes about 100 million tons of protein meal annually, with half of that used by small land-holders who often feed table scraps to their chickens, hogs and dairy cows, said Thomas Wray, a director of the board that helps market US soybeans internationally.
Only about 30 percent of China's protein meal needs are met with soybean meal, Wray said.
China's untapped rural feed industry "is the largest meal market in the world," Wray, a Kansas soybean grower, said during a recent interview in Cebu in the Philippines.
"It's a huge opportunity. What we've got to do is to continue to educate the rural part of China on how to feed their animals," he said.
US growers are counting on expansion of the world's third-largest economy to boost demand for meat and to encourage China's farmers to switch to feed-meals to lift productivity. Soybean futures have dropped 21 percent since the end of May on a forecast for record US output in the 2009-10 marketing year.