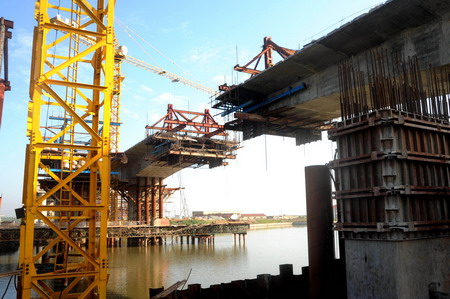 Qingkouhe Bridge in east Jiangsu province will soon be completed. China's August data release shows that the domestic economic recovery remains strong. [Xinhua]
China's August data release shows that the domestic economic recovery remains on track.
Continuation of the government's broad supportive policies is expected, while targeted adjustments might be used to control any overheating in certain sectors.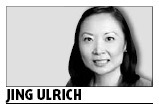 Overcapacity will help keep price inflation subdued, but measures to control it might dampen fixed asset investment (FAI) growth.
Recent liquidity concerns should prove unfounded with stimulus funding secure and the easing of loan growth in line with expectations.
As the initial stage of China's investment-driven economic recovery draws to a close, the government is expected to take concrete steps toward transitioning to a more domestic-oriented model of growth.
Industrial production
China's industrial production increased 12.3 percent year-on-year in August, up from 10.8 percent in July.
This constitutes the fourth consecutive monthly improvement and indicates a significant pick-up in the pace of expansion.
As indicated by the most recent Purchasing Managers' Index (PMI) data, industrial activity should continue to grow in the coming months, underpinned by resilient domestic demand and a rebound in exports.
Industrial production growth has been stronger in China's heavy industries that are benefiting from infrastructure construction. But the recovery in light export-oriented industries has been more tentative.
With programs to upgrade infrastructure under way across the country, there is good reason to believe that the momentum in downstream demand will continue into 2010 and beyond. This should be supported by an uptick in housing construction in the second half.
The robust pace of domestic investment and a gradual improvement in external demand suggest that industrial production growth should show further gains in coming months.
Consumer price index
China's consumer price index (CPI) declined by 1.2 percent year-on-year in August, from -1.8 percent in July. The producer price index (PPI) fell by 7.9 percent in August, from -8.2 percent in July.
Consumer price deflation has likely bottomed with food and fuel prices continuing to show strength.
While the CPI should begin to rise later in the year, inflation should be moderate, as producers and consumers alike continue to feel the effects of industrial overcapacity and unemployment.
The input price components of China's two manufacturing PMI series remain on the rise. The HSBC-PMI input price reading jumped to 66.9 in August from 59.1 in July, while the official NBS-PMI input price reading increased to 62.6 from 59.9.
Under the new refined products pricing mechanism from the National Development and Reform Commission (NDRC), retail prices for gasoline and diesel increased 4.6 percent and 5.2 percent, respectively, on September 2 - the fourth successive increase since March.
However, at the end of August, it was reported that fuel price adjustments would become less frequent.