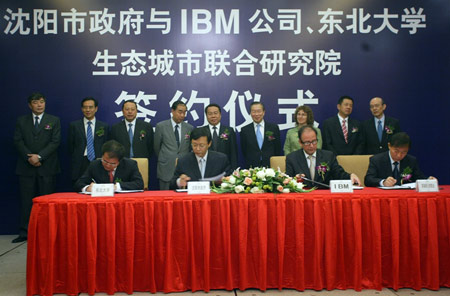 IBM, Shenyang city government and Northeastern University signing agreements on future cooperation.
International Business Machines Corp (IBM), the Shenyang city government and Shenyang-based Northeastern University jointly announced the establishment of an eco-city collaborative laboratory, or 'collaboratory' on Wednesday.
The planned collaboratory, located in the city's Hunnan New Area, where thousands of hi-tech companies are already located, will be under the charge of Song Qi, former vice mayor of the city.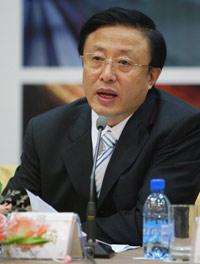 Song Qi, former vice mayor of Shenyang, will be in charge of the collaboratory.
"The collaboratory will aim to develop Shenyang into a model for the country's eco-city development and environmental construction," Song said at the signing of the strategic cooperation agreement.
"We will change Shenyang's image from an industrialized city into an eco-city within five years using IBM's advanced technologies and research abilities," he said.
Song, who viewed smart city construction to be even more important to our future than the development of the internet, was more than optimistic when talking about the three sided cooperation at a news briefing after the signing ceremony.
"As one of the country's most famous heavy industries bases, Shenyang is also Northeast China's center of economy, culture, transportation, finance and trade," Song said.
The city government has invested up to 300 million yuan ($44 million) in establishing the collaboratory as part of the "smart city" program and they have confidence in IBM that the technology giant can manage the program well, Song added.
Sharon Nunes, vice president of Big Green Innovations in IBM, echoed Song's idea when interviewed by chinadaily.com.cn, saying the leaders of the city had a "compelling need and desire of doing something".
"We were in discussion with a number of cities around the world on different types of collaboratory. This one (Shenyang) is unique because it combines transportation, water, energy and food and there are no other collaboratories that we've announced have those kinds of components that really help to define what a smart city would be," Nunes said when asked if IBM has considered other cities to carry out their "smart" plan.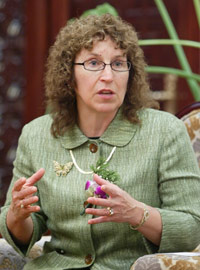 Sharon Nunes, vice president of Big Green Innovations in IBM.
"The assets developed here in Shenyang will be brought to other cities," said Nunes, adding that she expects those assets to be the best and available to the rest of the world and to be reused by IBM and its business partners.
"My main goal for the last couple of years working with the China Research Lab in Beijing has been to find a model city in China because we know China is a very important market and if you can solve the problems in China you can solve problems in many other cities around the globe," said Nunes.
Establishing the collaboratory to build a "smart city" is only one step towards IBM's ambitious aim of building a "smart planet", an idea which was introduced by the technology giant at the beginning of this year in a bid to promote people's well-being with its technologies and strenuous efforts.
Since initiating its "smart planet" program in early 2009, IBM has been helping promote the development of China's enterprises as well as the whole of society with its professional understanding of specific industries and technology advantages.
Cooperation between IBM, Shenyang city government and the university will involve not only the areas of research and new project development but also carrying out projects and the services that follow.
Song said IBM had very strong advantages in the technological field and the company was also willing to share their knowledge to better people's lives.
IBM will be dedicated to promoting the ability of all three partners to innovate through a comprehensive cooperation based on the collaboratory, according to Thomas Li, PhD, director of IBM China Research Lab.
Li said IBM will make use of its global team in carrying out the "smart city" plan in Shenyang rather than just the team from IBM China Research Lab.
Related readings:


 Chinese VP: Eco-city off to a good start


 China's top science academy woos talents


 China drafting plan for environment industry


 Environment and crisis of development
For Northeastern University the move is also a great chance for its future development. As IBM's partner the university will gain much help when high-end technology talents are in great need for Shenyang's "smart city" construction.
"No other opportunities can inspire more confidence and research and development enthusiasm in us than this one and there is no other better choice than cooperating with IBM either," He Jicheng, principal of the university said, adding that the university will try its best to promote the collaboratory's construction and development.
The city has been making continuous efforts to carve out a sustainable way of development when promoting its economy, including tackling the problem of air pollution and waste water treatment.
After years of development the city has become one of the top ten cities in the country in terms of comprehensive strength and a model city for environmental protection. Inspired by these achievements, the city government is now working even harder to fulfill a bigger goal to turn the city into an eco-city within five years, according to Song.
Song expects the following five-year cooperation of the three sides to generate great success to make the city much cleaner and more comfortable for people to live in, as well as to attract investments.