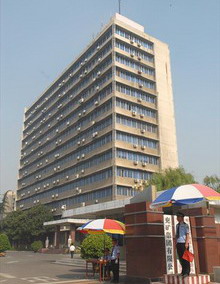 Yanzhou Coal Mining office building in East China's Shandong provice.
Yanzhou Coal Mining Co has resubmitted its takeover application of Felix Resources Ltd to Australia's Foreign Investment Review Board, said Oriental Morning Post, citing Yanzhou Coal's asset purchase report on Sept 13.
The deal is expected to be conducted by the end of this year, according to the report.
Yanzhou Coal announced on Aug 13 to buy Felix through its Australian subsidiary for about A$3.3 billion ($2.8 billion) to secure supplies, making the deal the largest takeover of an Australian company by a Chinese firm.
The Sept 13 report amended the financing plan of the takeover. All capital needed for the purchase will be lent by Bank of China's Sydney branch or a banking consortium led by Bank of China, with an amount of 20 billion yuan ($2.9 billion).
In its earlier application to Australia's foreign investment regulator on Aug 13, Yanzhou Coal said it would borrow A$1.67 billion from bank loans and provide an additional investment of A$834 million, plus an entrusted loan of A$2.5 billion to its Australian subsidiary for the purchase.
Related readings:


 Yanzhou Coal sees net profit fall in Q3


 Yanzhou expects 9-month profits to sag over 55%


 Felix Resources gives nod to Yanzhou Coal deal


 Yanzhou may net Oz's Felix Resources

There were no "material amendments" to the application and it won't affect timing for the completion of the takeover, Brisbane-based Felix said today in a statement to the Australian stock exchange.
Yanzhou said in a Sept 11 statement to the Hong Kong stock exchange it's been in talks with authorities in China and Australia about preparing and submitting the relevant details, Bloomberg said.