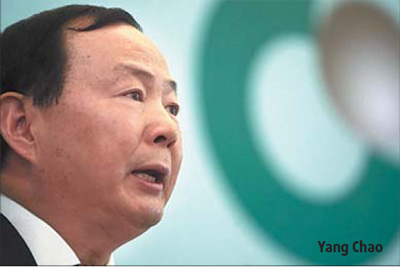 China Life Insurance Co, the country's largest life insurer, said yesterday it planned to acquire a stake in China Development Bank Corp (CDB) to match its long term liabilities and achieve a better synergy in resource allocation.
"Both of us have a strong desire to cooperate, but the final deal is still subject to regulators' approval and the final pricing terms," China Life's chairman, Yang Chao, said yesterday at the company's global corporate day conference.
Talks are "almost" complete, and terms are "very favorable" to China Life, Yang said, but he didn't give the size of the stake.
"We are also actively seeking equity investment opportunities in other big, unlisted corporations," Yang added.
China Life's wooing of CDB is its latest attempt to make it a financial holding group with a strong core business and a diversified financial business.
Related readings:


 China Life net profit up 29.22% in first half


 Insurers under pressure


 China Life raises equity investments as market rallies


 China Life says won't be intimidated by investment risks
On Aug 26, Yang said the company was considering becoming the pre-IPO investor of Agricultural Bank of China (ABC) and the Asian unit of American International Group (AIG).
"We're definitely interested in any influential, branded financial institutions with sound results. Such equity investment will enable us to better match our growing long-term liabilities from sales of policies," Yang added.
Yang said he was even more interested in CDB because its asset quality was better than ABC and the return would be higher.
CDB received a $20 billion government capital injection in December 2007 and is seeking to transform itself from a policy bank into a commercial lender.
Sources said the Bank of Communications' (BoCom) proposal to acquire a controlling interest in China Life-CMG Insurance Co had received regulatory approval. Yang said the deal was a win-win one.
"We have the price premium of the deal and BoCom gained a good platform in the insurance business," said Yang.
China Life-CMG Insurance is a 51:49 joint venture between China Life and the Commonwealth Bank of Australia. BoCom plans to purchase the stake from China Life.