After years of investing in Chinese retailers, global private equity funds are adding other strong consumer sectors such as healthcare to their target lists, attracted by low valuations and big market potential.
Traditional retailers such as home appliance chains or food stores have long been popular among foreign investors due to China's population of 1.3 billion and the country's growing economy.
But competition for deals in the sector and corporate valuations are rising, prompting some buyout funds to shift towards the drugs and healthcare sectors, bankers and dealmakers said during the Reuters China Investment Summit.
"Consumer, pharmaceutical and retail are areas people expect to grow in terms of the macro story in China," said Philip Partnow, deputy head of UBS investment banking in China. "So these are areas they want to be in."
Brian Gu, head of Greater China mergers and acquisitions for JP Morgan Chase, said: "We see a broader way for private equity to be interested in finding angles to tap China consumption overall."
One high profile retail deal that ultimately failed was Coca-Cola's bid to buy China's top juice maker, Huiyuan, for $2.5 billion -- nearly three times its value -- before the deal launched last September.
"Valuation is always going to be an issue. If the valuation is ahead of itself, private equity will be hesitant because there was not a lot you can do to change the business itself," Gu said.
Healthcare focus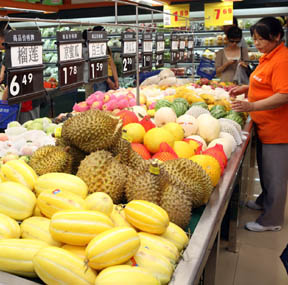 Consumers shop for vegetable and fruit at a Wumart Supermarket in the Shijingshan district of Beijing. Foreign private equity funds are eyeing China's retailing and healthcare sectors. [CFP]
Private equity funds are already pursuing healthcare and pharmaceutical companies in China.
Reuters reported in June that Bain Capital, which already agreed to invest in China's top home appliance retailer, GOME, was in talks to buy Landwind, a medical device maker.
JP Morgan's Gu said he sees foreign interest in the pharmaceutical and healthcare sectors growing, as private equity funds want to expand in response to China's growing consumer market.
"Pharmaceuticals is an under-invested and under-represented sector (in China). This is definitely a sector you can say has a lot of potential," he said.
US healthcare spending takes up roughly 15 percent of its gross domestic product versus just 5 percent in China, official data showed.
But Beijing is keen to reform its medical and pension system this year by expanding healthcare coverage.
Sequoia Capital China Founding Partner Neil Shen told Reuters his fund is eyeing healthcare deals, but declined to name any.
"With Chinese people getting richer, obviously they want to spend money on various products and services," he said.
Retail outlook
For those Chinese retailers still eager to attract foreign investments, simply offering a growth story will not be enough.
Related readings:


 PE prof takes sip from winery!


 Limited partnership needs improvement to boost domestic markets


 NSSF asks for nod to invest in foreign PE


 Venture firms develop cold feet on crisis woes
"Clearly, if the valuation is ahead of itself, private equity firms will scratch their heads to really figure out how to make that work. We have to really look at alternative ways to demonstrate their value creation," said Gu.
"If you just sit here and pay a high price and assume growth will stay at 20, 30, 40 percent, and when exit multiples will be there and even higher, that's probably not the best case for those private equity investors," he added.
Last month, Wumart, a leading supermarket chain, said it would sell an 11 percent stake to the US buyout fund TPG and Hony Capital for HK$1.65 billion, and seek a China listing within three years.
"People are taking an innovative look at things. For example, when Hony and TPG made investments in Wumart, one of the key theses they tell everybody is that they are trying to see if it can list in China or do an A-share listing to really elevate value," Gu said.
"You have to have additional structural or strategic rationale to make those investments," he added, noting the recent Bain-GOME deal was not only about retail, but also a company restructuring story.