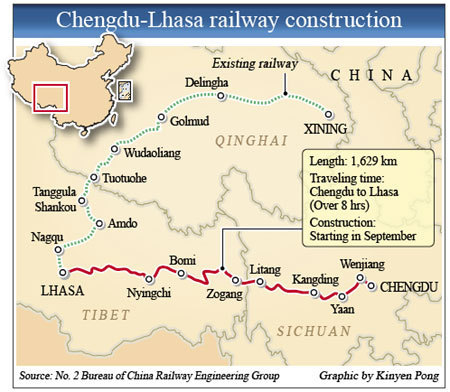 Construction on a highly anticipated rail line linking Chengdu in Sichuan province to Lhasa in Tibet will not start this month, according to the Ministry of Railway, contradicting recent media reports.
The railway's planners are still examining intricate and difficult geological conditions along the proposed lines, according to the ministry spokesman, who was quoted by Xinhua News Agency.
A new start date has not been set, the spokesman said.
The railway's construction will have to overcome frozen earth, landslides, rock slides, cold weather and a lack of oxygen due to high altitude in some places.
Related readings:


 Reports about Sichuan-Tibet railway construction untrue: MOR


 Sichuan-Tibet railway to start construction in Sept


 Tibet sees record number of tourists in July


 Qinghai-Tibet Railway extension will help Nepal

The proposed railway will span 1,629 km, 650 km of which will be in Sichuan. Trains will travel at a maximum speed of 200 km per hour and will take only eight hours to reach Lhasa, the capital of the Tibet autonomous region, according to Wang Minghui, deputy chief of the Chengdu railway administration.
The rail line is expected to be finished in eight years with an investment of nearly 54 billion yuan ($7.9 billion) in State funds.
Travelers now have two ways to reach Lhasa from Chengdu: by National Highway No 318, which takes three days, and via Train T22, which takes nearly 45 hours.
"Because only one train leaves Chengdu for Lhasa every other day, and vice versa, it is quite difficult to get tickets," said Chen Zhuo, an official with the Chengdu railway station.
Construction of the Sichuan-Tibet railway is expected to propel economic and tourism development along the line.
The Hengduan Mountains near the line have an abundance of natural resources, including water, vegetation and minerals, said Li Changping, chief of the Ganzi Tibetan autonomous prefecture in Sichuan.
The Yulong Copper Mine near the mountain in Tibet has a proven reserve of 6.5 million tons of copper, first among the country's copper mines.
Eighty-two counties and districts along the line in Sichuan and Yunnan provinces and Tibet boast snow-capped mountains, grasslands, and Tibetan and Buddhist cultures.