The Chinese insurance industry is facing three major risks - managing the non-life underwriting cycle, climate change and catastrophic events and channel management - according to Xu Yingwei, partner of Ernst & Young's (E&Y) business risk management, basing his judgment on an insurance risk report by E&Y released on August 4.
Related publication: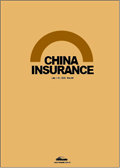 The annual business risk report, Insurance 2009, was drafted after veteran commentators of the insurance industry were interviewed. It lists 10 major risks of the global insurance market, naming the financial market crisis as the most serious one.
Unlike its foreign counterparts, who took a heavy toll in the financial crisis, China's insurance companies suffered less from the recession due to their investment in financial derivatives being comparatively small.
But the impact is still significant, according to the 2008 annual report of China's insurance companies. PICC Life, Ping An and China Pacific, the three insurance giants in the A share market, all reported ......
The full text is available in the August Issue of China Insurance. Please visit E-Shop for more subscription details.