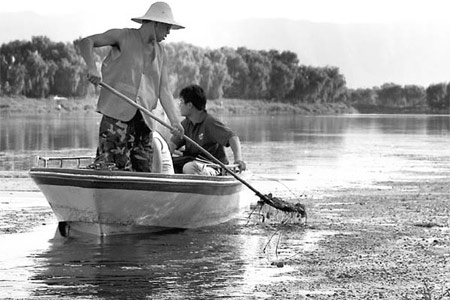 Many believe an environmental tax is an inevitable tool for sustainable economic growth. [CFP]
China's Ministry of Finance, State Administration of Taxation and Ministry of Environmental Protection have been jointly working on the introduction of an environmental tax.
The media reported last week that the new tax plan could be implemented as early as before the end of this year.
The Chinese government has placed environmental protection at the center of its policies to guide the world's third-largest economy.
China and the United States are the top two carbon emissions countries in the world.
With the right policies, China's emissions growth could slow after 2020, with a peak around 2030, according to a panel of experts from the National Development and Reform Commission, the country's top economic planner, and the Development Research Center of the State Council.
Some analysts said an environmental tax is a necessary economic tool to realize this target. An environmental tax would be more scientific and efficient than pollution emission fees that are currently levied on enterprises, they said.
Related readings:


 Carbon tax's smoke and mirrors


 Environment: China likely to levy carbon tax


 New Zealand first country to levy carbon tax


 China draft plan on energy conservation, environmental protection
But others said the introduction of the tax would become a new burden on companies that are already struggling with the global economic downturn.
Critics also said that China has already adopted taxes such as the fuel tax to protect the environment, and that a new environmental tax is unnecessary.
Analysts and netizens expressed their views to China Economy Weekly and Sina.com
Jia Kang, director of the Research Institute for Fiscal Science at the Ministry of Finance:
"If China wants to realize sustainable growth, an environmental tax would be an inevitable tool. China already has the foundation, in terms of both economic growth and taxation policies, for introducing an environmental tax. I believe a carbon tax would be the first to be adopted."
Ma Zhong, director of the School of Environment and National Resources at Renmin University of China:
"A carbon tax mainly targets CO2 emissions. It will increase the cost for using fuels that are high in CO2 emissions. It will force enterprises and public entities to improve their fuel efficiency and help slow down the global warming process."
Yang Zhaofei, director of the policies and regulations department at the Ministry of Environmental Protection:
"We now face a very important technical problem. We have to accurately calculate how much impact the new tax rate would have on the economy, product prices and the lives of ordinary people. We also need to be careful to prevent the environmental tax from becoming a heavy blow to the healthy growth of companies."
Netizen from Guangdong:
"Who will pay the environmental taxes? As ordinary people, we are already paying fuel taxes used to protect the environment. Will the government continue to levy or cancel fuel taxes? That is a question."