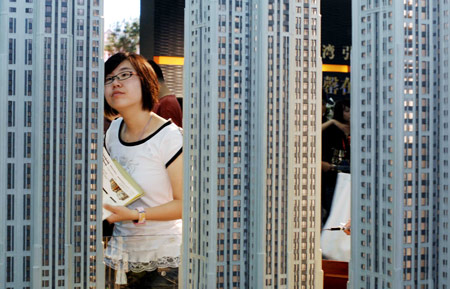 A woman assesses a model of a building in a real estate exhibition last month in Dalian, Liaoning province. [China Daily]
Some 300 million Chinese now living in rural areas - the equivalent of the entire population of the United States - will move into cities in the coming 15 to 20 years, said a senior Chinese official yesterday.
The fast pace of urbanization will create at least 1 trillion yuan in annual investment opportunities in building water supply, waste treatment, heating and other public utilities in the cities, said Xu Zhongwei, deputy policy director of the Ministry of Housing and Urban-Rural Development.
"Such a big urban population will result in huge market demand," Xu told China Daily yesterday.
China is undergoing rapid urbanization, with its rate increasing from 17 percent 30 years ago to 45 percent at the end of year, Xu said. More than 600 million of China's 1.3 billion people already live in cities.
"This is an incredible speed and I am quite proud that we didn't see a huge increase of slums in the cities during the process," Xu said.
In contrast, urbanization in other transitional economies, such as India, Brazil and South Africa, resulted in many slum areas.
China's urbanization rate will increase by nearly 1 percent annually during the coming 15 to 20 years, which means that China will urbanize 300 million rural people during the period, Xu said.
However, compared with international average standards, Chinese cities are extremely dense, Xu said.
Related readings:


 Left-behind kids in China's cities


 Smart cities needed to save our planet


 A profile of China's up-and-coming cities


 New super-cities ready for the challenge
Statistics have shown that the population count per sq km in central parts of Beijing, Shanghai and Chongqing has surpassed 50,000 to 60,000. The world's average per sq km stands at just 10,000. Currently, the Chinese government's plans call for 120 sq m of living space per person, taking into account all aspects of life, such as housing, parks, roads, schools and other public utilities.
"The standard is too low and I personally believe we should double the standards and decrease density of cities," said Xu.
The cities in China just cover 80,000 sq km of land in the country and if the standard is doubled, it will be increased to 160,000 sq km.
At the same time, the government is implementing tough policies to protect arable land and taking cautious steps to expand cities.
"We need a balanced policy to prevent people from living a poor urban life in high-rise buildings," said Xu. "If that happens, fast urbanization is meaningless."
Yu Lei, a young resident in Chongqing, said he is fed up with living and working in the downtown area.
"I want to move to the suburbs and buy an apartment there but the long commuting between the center and the suburban region has made me shelve the plan," said Yu, who lives near the city's business center Jiefangbei.
But James Jao, a Chinese-American expert on urban planning, said that China should insist on intensively using land when constructing cities and the current standard should be kept.
China should include green space in its urban planning, as well as mass transit, said Jao, who is also president of Longon Group, which has advised many cities in China on urban planning.