China's top legislature yesterday turned its attention to the creation of specific plans for more renewable energy, such as nuclear, wind and solar power.
The move would not only create more energy that is desperately needed in China, but would also spur industry and business development, environmental experts say.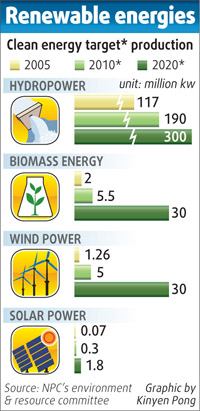 A draft amendment to the renewable energy law was submitted for first reading to the Standing Committee of the National People's Congress (NPC), in a bid to remove the power transmission bottleneck that hinders industrial development.
The draft requires related ministries to map out concrete plans for meeting the country's medium- and long-term renewable energy targets, which should be based on the overall national energy strategy and available technologies.
"The country's power grid development plan is falling behind that of the renewable energy, becoming a major block for reaching the country's renewable energy target," said Wang Guangtao, director of the NPC's environment and resource protection committee.
For instance, areas rich in wind power resources are mainly concentrated in the remote northwest, northeast and southeast, where the power transmission network is poorly constructed, Wang said.
But the scale of renewable energies is over-expanding in some areas despite the lack of necessary infrastructure to collect the electricity.
More than 20 percent of the country's wind power machines did not generate any electricity last year because the equipment was not yet connected to the grid, according to officials from the China Wind Energy Association. The draft law also stipulates the setting of a nationwide annual purchase quota for renewable energy sources to protect the interests of renewable energy enterprises.
The renewable energy law orders power grid operators to purchase resources from registered renewable energy producers within their domains. But some grid companies failed to abide by the law.
"The electricity supply from renewable energies is not as stable as the supply from traditional coal-fired power plants," said Yang Lei, chairman of Vantage Point Venture Partners. "This makes power grid companies reluctant to collect electricity from such sources."
Related readings:

 Top legislature mulls amendment to renewable energy law


 China to issue new agenda for development of renewable energy


 China to subsidize renewable energy buildings and projects


 China considers higher renewable energy targets
Wind power, for example, is affected by sudden surges or falls in electricity caused by unstable wind conditions. This leads to strong fluctuations to power grids, and may even cause damage, Yang said.
The draft legislation will help and protect renewable energy producers, but the challenges that power grid companies face have not yet been tackled, Yang said. Technology breakthroughs are required to fix this problem, Yang said.
The draft amendment also calls for China to set up a government fund to support research and development of renewable energy-related technologies and a smart power grid system.
Last month, China's lawmakers revised some target dates, mandating at least 15 percent of its energy capacity be generated from wind, solar and other renewable energy sources by 2020.
Guangzhou will highlight the development of solar energy, heat pump technology, hydropower, wind power, biomass energy and alternative energy for public communication in its new energy and renewable energy development plan, released in late July. Guangzhou is the first city in China to have issued such an energy development plan.
The city will encourage foreign investors in new energy power generation projects while developing the equipment manufacturing industry for the new energy sector, according to the Guangdong provincial development and reform commission.
The new energy plan for Guangdong province also will be released soon, hopefully within this year, said Li Miaojuan, director of the provincial development and reform commission, at a recent international energy forum in Guangzhou.
Zhan Lisheng contributed to the story