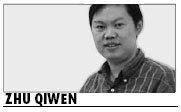 China's shrinking import of cars may have disappointed foreign manufacturers who are struggling to cope with the ongoing global crisis. But a close look at the mix of its auto import finds that it may actually be a blessing in disguise for the world economy in search of a strong and sustainable recovery.
Latest customs statistics show that China's automobile imports dropped by more than 30 percent year-on-year in the first six months of 2009 while pent-up demand has tremendously driven up domestic sales to the surprise of all.
In 2008, China's auto sales grew only 6.7 percent from the previous years to 9.38 million units. It was the first time, since 1999, that growth in the industry fell below 10 percent.
Given the gloomy global growth prospect at the beginning of this year, it was only natural for carmakers to lower their expectation on the Chinese market.
Yet, China's substantial cut of purchase taxes for cars with small engine capacities, a part of the government stimulus measures, has since worked magic. The country sold 6.1 million vehicles in the first six months - up 17.7 percent over the previous year. And, full year sales are now comfortably poised to breach the 10-million-unit threshold, and may even test the 12-million-unit level.
Domestic carmakers including home-grown companies and joint ventures are surely profiting from China's rise to replace the US as the world's top car market in the first half of this year. Falling vehicle imports, however, indicate that overseas automakers may have much to complain.
Do they?
No, this is not about trade protectionism at all.
Look at the breakdown of China's auto import. While the country bought much less foreign cars with big engine capacities in the first six months, its import of small-engine cars increased in line with a domestic boom in the sale of such small and energy-saving cars.
The signal that Chinese consumers are sending to the market is clear: We need smaller but greener cars, be they home-made or imported.
Related readings:


 China's auto import volume down 30% in first 5 months


 Autos: Jan-May auto import growth slows down


 China's rise in the global auto market


 China's auto prices see slight increase in H1
This is an important message not only for Chinese policymakers who are trying their best to boost domestic consumption but also for business people around the world who want to tap the huge potential of the Chinese market.
On the one hand, to make the ongoing global economic crisis an opportunity to change its growth pattern and facilitate pursuit of sustainable development, the Chinese government should come up with green stimulus measures like what they have done to encourage domestic purchase of small-engine cars.
At present, Chinese consumers on average use less energy than their counterparts in developed countries do, but the government can encourage them to be even more energy efficient by properly introducing incentives.
On the other hand, by refusing to buy more big-engine cars, Chinese consumers are favoring those overseas manufacturers who are moving quickly to abandon gas-guzzlers.
If Chinese consumers render themselves a driving force of greener consumption, it will be an opportunity that no global business giant can afford to ignore.
Think about the country's still low penetration of motor vehicles -- about 4 vehicles per 100 people in 2008, compared with almost 60 vehicles in Japan and 80 in the US.
China's rapid economic expansion and rising living standards mean its consumer market will eventually emerge as a major growth engine for domestic companies and foreign firms as well. Yet what makes the Chinese market matter is not only the increase in its sheer size. As American consumers begin to save more, Chinese consumers are well expected to play a bigger role in keeping up global demand.
More important, China's efforts to chart an ambitious course to improve its energy efficiency and environment can also make Chinese consumers an indispensable force to drive a green recovery of the world economy.
E-mail: zhuqiwen@chinadaily.com.cn