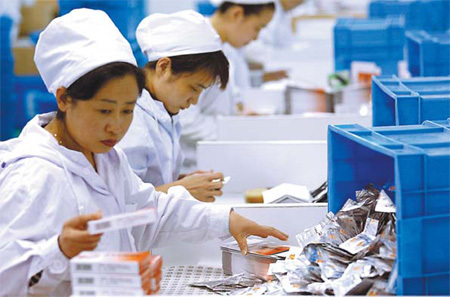 Workers at Liaoning Benxi No 3 Pharmaceutical Co Ltd work on the production line. Domestic and foreign drug companies are competing for business opportunities in the fast-growing China market. [China Daily]
China's ambitious $124-billion effort to provide basic health coverage for the vast majority of its 1.3 billion citizens by 2011 is a brimming opportunity for global pharmaceutical companies.
As growth in the US and European markets remains sluggish, many giant pharmaceutical companies are expanding their sales forces, distribution channels and research operations in China to tap into the country's robust drug market.
China's drug market is expected to grow about 22 percent annually over the next five years, said Mandy Chui, senior principal of (Intercontinental Marketing Services) IMS Health Inc.
Chui is the China expert at IMS Health, which provides market data on the pharmaceutical and healthcare industries.
"We see companies continuing to invest in China because the other markets are not growing," Chui said. "For companies, (China's growth) is certainly a good story to tell to Wall Street, right?"
With a huge and aging population, rapid urbanization and adoption of Western lifestyles that give rise to hypertension, obesity and other diseases, China is poised to become the world's third-biggest pharmaceutical market by 2013, up from its current No 5 spot, said Chui.
The $24.5-billion market is expected to swell to betweem $68 billion and $78 billion by 2013, Chui said, leaving it behind only the US and Japan.
"China is taking over from Germany and France," she said.
"It's like a big wake-up call. If they (big pharmaceutical companies) are not in there at this point in time, all of them are not going to grow," Chui said.
In the race to penetrate the Chinese market, she said European drug makers such as Bayer AG, AstraZeneca PLC and Sanofi-Aventis SA have taken the lead.
Related readings:


 No bitter pill for pharmaceutical shares


 Medicine watchdog launches pharmaceutical safety program


 World Pharmaceutical Summit to be held in Shanghai


 Pharmaceutical shares catch investor fancy
US drug makers were once content to grow in their home market, but now they are eager to "play catch-up," she said.
Pfizer Inc CEO Jeff Kindler said that China is an increasingly important priority for the world's biggest drug maker, which aims to make vaccines a big part of its China effort.
"Not only is it necessary to be there, we are there," Kindler said.
Chui said drugs for diseases commonly seen in China, such as hepatitis B, will have blockbuster potential.
An estimated 30 million of China's people have chronic infections with hepatitis B - a virus that can lead to cirrhosis of the liver and liver cancer.
Many large pharmaceutical companies have geared up their outreach efforts to increase treatment rates for the liver disease that kills more than 300,000 Chinese people a year, Chui said.
Bristol-Myers Squibb Co's hepatitis B drug Baraclude - a pill introduced in 2006 - has the clear market lead in China over GlaxoSmithKline PLC's antivirals Heptodin and Hepsera, Bayer AG's Nexavar and several interferons, she said.
No company has any products of blockbuster scope, which typically means annual revenues of $1 billion or more. In China, Chui said, some could arrive within five to 10 years.
Despite the price gap between generics and branded drugs, branded drugs that have lost patent protection still are favored in China, Chui said.