Retail warehouse and logistics properties are attracting new interest from overseas companies despite slower demand for other industrial space in this financial downturn.
US-based Preferred Freezer Services in late July held a groundbreaking ceremony for a 26,013 sq m refrigerated warehouse.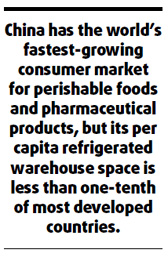 Preferred Freezer Services (PFS) is the first US-based company to build and operate its own cold storage facilities in China.
The company will construct its facility at Lingang Logistics Park in Shanghai.
According to Shanghai Institute of Mechanical & Electrical Engineering Co Ltd, the facility will be the largest and most advanced single-story cold storage facility in China.
"Once completed, the facility will be the largest in PFS's global network," PFS CEO John Galiher said.
"This project will be the first of many leading-edge facilities that we have planned for China. Our expertise in cold storage warehouse operations will provide an improved option for local and multinational food companies in the country," the chief executive officer said.
PFS plans to begin operations at the warehouse in August 2010.
"Shanghai is the epicenter of China. It's one of the major trade centers and a key financial market, as well," said Tim McLellan, PFS managing director of international business development.
John Carver, executive vice-president of Jones Lang LaSalle (JLL), a commercial real estate services firm, said the facility is strategically located near the East Sea Bridge connecting the Lingang New Area in Shanghai to the recently opened Yangshan Deep Water Port.
"This represents one of the largest build-to-suit transactions in the Shanghai region and marks a notable trading partnership between the US and China," Carver said.
China has the world's fastest-growing consumer market for perishable foods and pharmaceutical products, but its per capita refrigerated warehouse space is less than one-tenth of most developed countries, statistics show.
McLellan of PFS said demand for cold chain facilities is enormous in China, and added that the rapid growth of foreign capital in recent years will present investors with plenty of opportunities.
PFS's Shanghai expansion is just the beginning of its plans in China. The cold storage expert also has partnered with JLL to explore properties in Bohai Bay, the Yangtze River Delta and Pearl River Delta.
"For US companies entering this market for the first time, it can be a very scary process to invest in an international expansion like this," JLL's Carver said.
"So it is very important that we find a location that is a safe, professional entry point for them. Lingang Logistics Park met those qualities," Carver said.
Demand for factories has been shrinking as some export-oriented businesses reduced production and cut back on spending in response to weaker markets, according to an industry report from property services provider Colliers International.
Yet, retail-oriented logistics and warehouse properties are proving resilient.
Related readings:


 China's logistics industry posts 15.4% growth in added value


 China to aid nonferrous metals, logistics sectors


 Customers, service come first for logistics firm


 Domestic logistics turnover hits $11 trillion in 2007
DHL, a global logistics specialist that is part of Germany-based Deutsche Post DHL, opened a new eastern China transportation hub in Shanghai in June.
The new facility is part of the company's $25 million investment strategy to strengthen DHL's reach in the country.
Korean Shinsegae Group opened its first retail distribution center for its E-MART stores in Songjiang, and a second distribution center will be opened in the second half of 2010.
US-based Nike is building its largest logistics center in Asia in Shanghai.
Demand also is strong for warehouse properties with advanced features such as warehouses with loading docks and sprinkler systems in Waigaoquia Logistics Park, Northwest Logistics Park and at Pudong and Hongqiao airports.
Investors such as Carlyle and Gazeley also are reportedly interested in seeking projects in the Shanghai industrial property market.
Even as interest builds in retail-oriented warehouse properties, the overall industrial property market is slowing.
Supplies of new industrial properties in the first six months of 2009 declined by 38 percent to 120,000 sq m, compared to the same period in 2008.
Vacancy rates in Shanghai's major industrial parks rose to 8.1 percent in the first half of 2009, according to Colliers International.
But Carver of JLL sees companies such as DHL and PFS expanding into the Shanghai area as signs of a promising market for high-quality properties.
"We are seeing a lot repositioning for the economic turnaround that everybody expects is on the horizon," Carver added.
"The development window for port, seaport, logistics and transportation is much greater than for other industries," he said.
Carver said the new interest in infrastructure expansion is not unique to China.
"In the United States, Europe, Latin America and India, there is tremendous energy being dedicated to infrastructure in preparing for the next five to 10 years," Carver said.