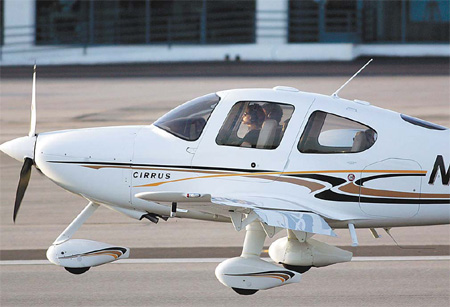 Cirrus said it will consider moving manufacturing facilities to China once the Chinese market matures.[CFP]
The local government of Huanghua, a city about 250 km (155 miles) from Beijing in Hebei province, built a small airport six years ago to curb a locust infestation. No one expected the airport would attract the attention of an aircraft manufacturer in the United States.
But Cirrus Aircraft, a leading producer of light planes, and its Chinese partners will use the airfield in the hopes that China's efforts to develop its general aviation (GA) industry will boost private airplane sales in China.
General aviation refers to all flights other than military and scheduled airline flights. In the US, business and personal transportation accounts for a big part of general aviation, whereas in China most GA operations are for agriculture, forestry, offshore exploration or aerial photography.
The local authorities in Huanghua only used the airport two months of the year for crop dusting flights to control pests, leaving it unused the rest of the time.
Now the airport will be operated by Jinggong General Aviation Co Ltd, a Beijing-based private aviation company that is the sole dealer of Cirrus Aircraft in China so far.
It will be upgraded into a general aviation airport and a private flying club will be established for owners of private airplanes and aviation fans. Cirrus hopes that working with Chinese partners to develop the facility will nurture demand for private planes in China.
"Our senior management understood the importance of China in the future," said Paul Fiduccia, director of government and industry affairs at Cirrus.
Cirrus began focusing on China in 2007, when it opened a Beijing office and appointed staff to China for local marketing and sales work. The company has sold eight aircraft in China in the past two years.
"We currently have few sales because the airspace is difficult to access and there are few suitable GA airports," Fiduccia said. "Cirrus will only benefit if China develops a good general aviation industry."
The lack of decent general aviation airports and the government's tight control of low-altitude airspace across China mean the country is not a major market for general aviation business despite its rapid economic growth.
In the US, there are about 5,000 public GA airports and 3,500 fixed-base operators (FBOs) that can service private airplanes. There are basically none in China, Fiduccia said.
But the Huanghua airport is an example of how existing facilities in China could be upgraded into good general aviation airports in the future.
Related readings:


 Aviation and aerospace industry booms in Tianjin


 Stimulus plan for aviation industry proposed


 China aviation giant to recruit foreign execs 


 Aviation industry sees promising future

The Chinese government has shown a willingness to gradually open airspace below 600 meters for private airplanes. It also made Guangdong province and the country's northeastern region two experimental sites for allowing the private use of airspace below 1,000 m. Cirrus Aircraft is now in talks with potential partners in Zhuhai, Guangdong province.
"We are planning to work with local government and business partners to establish a maintenance center for Cirrus airplanes in Zhuhai," said Scott Li, Cirrus's regional director of China.
The company is also cooperating with the Aviation College of Guanghan in Sichuan province to train maintenance technicians, he added.
Cirrus, like many other producers of general aviation airplanes, has seen sales drop nearly 50 percent because of the global economic recession. Even so, the Cirrus SR22 remains the world's best-selling airplane in its class, as it has since 2002.
The company is competing in China against other foreign light-aircraft makers including American producer Cessna and Austrian company Diamond, which were among the first to try to tap the Chinese market.
"It's good for China if there is competition. So we all work hard to make our airplanes better,"Fiduccia said.
Once the Chinese market matures, Cirrus will consider moving manufacturing facilities to China, he said.
"We'd like to do that. Just like Volkswagen," he said.
"The key is low cost and easy usage of GA airplanes in China," he said.