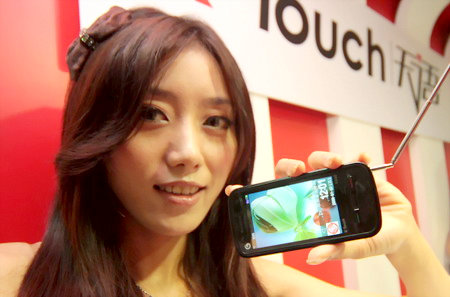 A model shows a Tianyu 3G cell phone at a high-tech exhibitin held recently in Beijing. Beijing Tianyu Communication Equipment Co is striving to dominate China's affordable 3G mobile phone market.[Asianewsphoto]
China's mobile phone market has long been dominated by foreign brands. But Beijing Tianyu Communication Equipment Co is betting on the country's 3G cell phone market for a domestic breakthrough.
According to research firm GFK, the domestic mobile phone vendor has surpassed Motorola to become the third largest mobile phone brand in China in terms of the number of products sold in the first quarter of this year, following Nokia and Samsung.
"Our goal is to target midrange 3G products," said Rong Xiuli, president of Tianyu, in an interview with Time Weekly, adding that her goal is to make Tianyu the Chinese "Nokia".
Unlike companies in most of the foreign markets, Chinese Telecom operators deploy three standards to build their 3G networks.
China Mobile, the nation's largest wireless telecom service provider, adopted homegrown standard TD-SCDMA. China Unicom and China Telecom adopted WCDMA and CDMA2000 standards, respectively.
That improved the chances for domestic cell phone makers to challenge companies like Nokia and Motorola, which mostly support the WCDMA standard.
Rong said foreign rivals do not have much experience in making CDMA cell phones.
And in the TD-SCDMA market, "we are at the same starting line", she said.
The company president said Tianyu's revenues are expected to reach 10 billion yuan by the end of this year because of Chinese telecom operators aggressively promoting their 3G services.
Founded in April 2002, Tianyu grew from a small OEM company to China's largest domestic mobile phone vendor by partnering with MediaTek Inc, a semiconductor company that provides chip solutions.
The company has become popular with Chinese consumers because of its ability to compile different technologies while keeping its products affordable.
For example, Tianyu rolled out products that support both GSM and CDMA standards simultaneously, which is a popular design for many Chinese cell phone users who often have more than one mobile phone number.
It also successfully introduced a cell phone with an optical zoom digital camera -- the first of this kind in China's cell phone market.
Related readings:


 China Mobile offers sops to 3G applications developers


 Telecom behemoths spend 80b yuan on 3G rollout


 Spending on 3G terminals expected to reach 400b yuan in 3 years


 Miles to go for 3G to make profits

However, Tianyu decided to make a shift last year by partnering with Chinese telecom operators to provide 3G cell phones in a cell phone market that had been hit hard by the global economic slowdown.
Tianyu in December announced plans to partner with US chipmaker Qualcomm in making CDMA cell phones for China Telecom, which promised to purchase 3 million CDMA phones this year.
The company is also working with China Mobile and China Unicom to provide custom 3G handsets.
Rong estimated that purchasing orders from telecom operators are expected to contribute to more than half of China's mobile phone market this year, compared with 20 percent last year.
"Most of the 3G handsets now are expensive, and what we want to do is to make smart phones affordable to Chinese users," Rong said, noting that the price of Tianyu's 3G handset is between 1,000 to 2,000 yuan.
Although Tianyu only gained 4.5 percent of the market share in China in the first quarter, far lower than market leader Nokia's 30 percent share, there are signs the gap is narrowing.
According to figures from the research firm GFK, shipments of GSM phones, in which Nokia holds a major share, declined by 7 percent in the first quarter, while CDMA mobile phone shipments surged 143 percent.
Industry analysts said the recent disputes between Nokia and its Chinese distributors, who accused the Finnish cell phone giant of monopolizing prices and evading taxes, might also reduce the market share of Nokia in China.
"I think China's 3G era may be the last opportunity for Chinese cell phone vendors to surpass foreign rivals," Rong said.