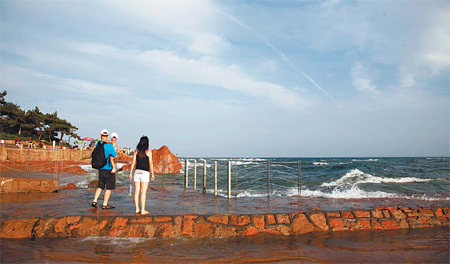 People stroll along the beach at Qingdao. The city of Shandong province built a seawater desalination pilot project to save water resources.[CFP]
China is turning to the sea to solve the growing problem of water shortages afflicting the country and cut utility costs, too.
A pilot project that uses seawater to flush toilets in a residential part of the famous brewery city of Qingdao in Shandong province will be extended after receiving official approval in June.
Another section of the coastal city is experimenting with using seawater in an air conditioning system for apartments, at public gyms and in swimming pools.
Now calls are being made to increase the number and size of desalination plants that treat seawater to provide for more of the country's needs for fresh water.
Residents of the Haizhiyun neighborhood of Qingdao were the first on the mainland to have their homes fitted with a system that uses seawater to flush toilets.
One of the residents, Li Tong, 62, said he was delighted with the result, which he found more hygienic and economical.
"The salt water is so good," he said. "What's more important, our monthly expenditure for water usage has been cut by a quarter."
Like 400 of China's 600-plus cities, Qingdao suffers from acute shortages of water. One-third of household consumption of water is used to flush toilets.
The 800 residents in the pilot project only pay 0.7 yuan per ton for processed seawater, which is about one-third of the average price of tap water in the city.
If 50 percent of Haizhiyun residents - about 1,000 households - used seawater, they would save 378 tons of fresh water and save $110 in water charges every day.
"We are so proud to introduce this eco-friendly project into our community," said Xiao Shengyan, deputy general manager of Qingdao Longhai Group Co Ltd, the developer of Haizhiyun.
Related readings:


 Seawater quality deteriorates


 Nation to use more desalinated seawater


 South China city to flush toilets with seawater


 Coastal city worries over seawater intrusion

The seawater needs to be purified, disinfected and biochemically treated at a plant that cost $878,000. The government paid five-sixths of the price, and Quingdao Longhai Group paid the remainder.
"Although it cost us an extra $140 per household to build dual flushing facilities inside each home, we will see a profit in 10 years, when fresh water will cost a lot more," Xiao said.
Treated seawater is also used in the community swimming pool and can be used in domestic aquariums.
Already, 80 percent of Hong Kong's population is supplied with seawater for flushing toilets.
"We are facing a shortage of water resources around the world," said Ho Pui-yin, director of the Hong Kong History Resource Center at the region's Chinese University.
Water from Dongjiang, in Guangdong province, accounts for 70 percent to 80 percent of Hong Kong's fresh water. Ho said Hong Kong should not remain dependent on that source alone.
He believes the city should make greater use of seawater for daily consumption.
Wang Duo, an associate professor in the College of Chemistry and Chemical Engineering at Ocean University of China believes desalination is the answer.
Desalination plants were introduced in China for the first time in 1958. Now there are more than 20 operations extracting the salt from seawater and purifying it.