Tang Jun, the former Microsoft China chief executive officer and the only known Chinese victim in the Bernard Madoff scandal, has decided that Chinese private banks are a much safer place to invest his assets.
Tang consigned his investments abroad to four foreign professional financial companies, which entrusted large parts of their portfolios to Madoff. At the end of last year, Tang estimated that he lost $2.76 million in the scandal.
"After the Madoff scandal, foreign private banks began curtailing their visits to clients. They promised to spare no efforts to get the money back, but there has been no feedback for several months," Tang said in an interview with the 21st Century Business Herald.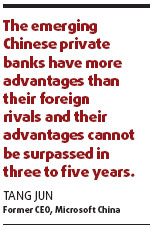 Tang said he had lost all hope of getting the money back and had written off the relevant assets. Now, he is planning to restructure his investment portfolio and park more assets with Chinese private banks.
"(My decision is based) not only on the strength of the renminbi and the country's fast-recovering economy, but also on the good profitability and liquidity of the products offered by Chinese private banks," Tang said.
To diversify risk, Tang invested in private banks in the US, Switzerland and China. About 30 percent of his assets were invested in Chinese private banks. Tang said he intended to increase that percentage in the near future.
Tang said he turned to Chinese private banks in the middle of 2008. Since then, he saw annual investment returns improving to 10 to 12 percent from the previous 6 to 8 percent, he said.
Bank of China launched the mainland's first private banking business in March 2007. Other industry heavyweights followed suit by opening their own private banks, including China CITIC Bank, China Merchants Bank and the Industrial and Commercial Bank of China.
Related readings:


 Madoff gets maximum 150 years in prison


 Bernard Madoff arrested over alleged $50 billion fraud


 China should promote private banks - Minsheng chairman

It is widely acknowledged that China's wealth management business has huge potential. The number of millionaires in US dollar terms in China reached 391,000 by September 2008, growing 22 percent year-on-year for the past five years, according a Boston Consulting Group (BCG) report.
Only the US, Japan, United Kingdom and Germany has more millionaires than China. It estimated that the number of Chinese millionaires may reach 858,000 by 2012.
"With a widespread operating network and abundant products, the emerging Chinese private banks have more advantages than their foreign rivals and their advantages can't be surpassed in three to five years," said Tang.
Prosecutors accused Madoff, 70, of operating a massive pyramid scheme illegally using money from new investors to pay previous ones. He was jailed in the US earlier this year for 150 years.