China's fiscal revenues are growing rapidly due to the strong economic rebound, underpinning the government's efforts to further boost growth with a proactive fiscal policy.
National fiscal revenues reached 669.6 billion yuan ($98.04 billion) in July, up 10.2 percent on the same period last year, the Ministry of Finance announced yesterday.
The ministry owed much of the monthly revenue increase, which jumped 19.6 percent in June and 4.8 percent in May, to robust economic recovery, strengthened collection of tax bills outstanding from last year and a rise in a consumption tax on refined oil and tobacco.
The July figure brought the total fiscal revenue in the first seven months to 4.067 trillion yuan, still down 0.5 percent year-on-year.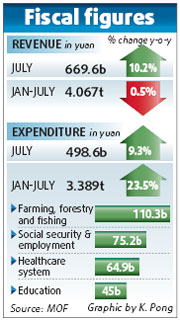 The growth prospect of fiscal revenues remains grim, the ministry said. The decline of fiscal revenues in the first part of the year was largely due to falling corporate profits, tax cuts and rising export rebates amid the global economic slowdown.
"But a grim fiscal situation does not mean a gloomy economy in the rest of the year," Su Ming, deputy director of Research Institute for Fiscal Science, which is under the ministry, told China Daily. "It only indicates that it is still a hard task to fulfill the annual goal of 8 percent fiscal revenue growth after revenues dropped 9.9 percent year-on-year in the first four months."
The ministry also released the fiscal expenditure in July that rose 9.3 percent from a year earlier, to 498.57 billion yuan. In the first seven months, fiscal expenditure climbed 23.5 percent, to 3.389 trillion yuan.
The huge expenditure was part of the government's 4-trillion-yuan stimulus package unveiled last November to counter the worst global economic crisis since the 1930s.
From January to July, spending on the farming, forestry and fishing sectors rose 59.4 percent, the most rapid among all sectors.
Government expenditure on social security and employment rose by 22.3 percent.
"Though it is difficult to accelerate revenue growth and limit government expenditure to the deficit target for the full year of 950 billion yuan, the country's fiscal deficit will be controlled under 3 percent of the GDP," said Su.
Premier Wen Jiabao reiterated on Sunday that a "moderately loose" monetary and "proactive" fiscal policy would remain unchanged because the economy still faces problems, including sliding export demand and industrial overcapacity.
Increased fiscal subsidies have enabled Chinese policymakers to stimulate domestic consumption so far this year.
The government has funded a project to expand sales of household electric appliances in rural areas at prices 13 percent lower than those in cities. According to the Ministry of Commerce, the sales under the project increased from 479.42 million yuan in January to 5.48 billion yuan in June.
But an insufficient social security and health security systems will dampen consumption, Gerard Lyons, chief economist and group head of Global Research, Standard Chartered Bank, said earlier.
"The measures, to improve the social welfare system and to boost rural spending, are particularly important," he said.
"Some villagers did benefit from subsidy allowances on raising sows, but it can't help too much. We should prepare for the days when we are old or ill. So who wants to buy a new TV as the old one is still usable?" asked Chen Huilin, a farmer at a village of Yixian county, Hebei province.
Han Qi, a professor at the University of International Business and Economics, also said the country should invest more on social security reform and consumer expenditure.
Si Tingting contributed to this story.