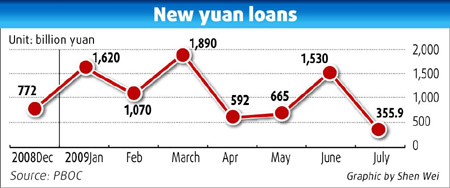 [chinadaily.com.cn]
New yuan-denominated loans slowed to 355.9 billion yuan ($52.04 billion) in July, sharply down from 1.53 trillion yuan in June, China's central bank said Tuesday on its website.
The July figure brought new loans in the first seven months to 7.73 trillion yuan, far exceeding the annual target of 5 trillion yuan.
The broad measure of money supply, M2, which covers cash in circulation and all deposits, rose 28.42 percent year-on-year to 57.3 trillion yuan at the end of July, according to the People's Bank of China.
The narrow measure of money supply, M1 (cash in circulation plus corporate current deposits), was up 26.37 percent to 19.59 trillion yuan.
Renminbi deposits increased 399.3 billion yuan in July. That was compared with a rise of 2 trillion yuan in June.
Peng Wensheng, analyst with Barclays Capital, said in a statement e-mailed to Xinhua that monthly new loans declined sharply and by a greater extent than expected.
"This partly reflects moderation from June's high level, which was boosted by banks' quarter-end lending, as well as recent central bank open market operations."
The central bank said earlier this month that it would use market tools to guide appropriate lending growth during the second half to reduce risks of asset bubbles led by a surge in bank loans.
Peng expected new loans to remain at a moderate level in the second half, compared with 7.4 trillion yuan in the first half.
Dong Xian'an, an analyst with Industrial Securities, said new lending would continue to cool and would reach more than 9 trillion yuan for the whole year.
As the government reiterated its stance of maintaining the moderately loose monetary policy, the impact of a slowdown in new lending on overall economic growth might not be as large as perceived, Peng said.
Premier Wen Jiabao reaffirmed at the weekend that China would adhere to its moderately easy monetary policy in the face of economic difficulties and challenges.