The head of China's nuclear power program is under investigation for "grave violations of discipline", the top disciplinary body of the Communist Party of China (CPC) said yesterday.
A statement from the CPC's Central Committee for Discipline Inspection didn't provide details of offenses allegedly committed by Kang Rixin, general manager and also Party boss of the State-owned China National Nuclear Corp (CNNC), but the terminology is usually used to indicate corruption.
It was not clear whether Kang, 56, was suspended from his post. He was elected as a member of CPC's Central Committee for Discipline Inspection in 2002.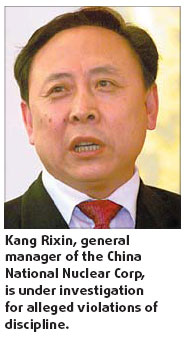 Xu Zongheng, the mayor of Shenzhen, one of China's wealthiest cities, was placed under similar investigation for "grave disciplinary offenses" in June and fired for corruption last week.
The Suzhou-based SUFA Technology Industry Co, which is listed on the Shenzhen stock exchange and whose controlling shareholder is CNNC, made an announcement yesterday evening, confirming Kang was under investigation.
The production and business operations of the company were not affected because Kang is not in a management role in the company, according to the announcement.
But Kang remained listed as general manager and Party committee secretary of the corporation on CNNC's website yesterday.
An anonymous staff member from CNNC told China Daily yesterday that the company had not received an official notice about Kang.
The CNNC, which oversees the country's nuclear programs, made a profit of 4.8 billion yuan ($705 million) last year. It is responsible for China's nuclear weapons and power production and waste disposal facilities, according to the company's website.
It's also the main investor and the biggest owner of nuclear power plants across the country.
As China's largest nuclear power developer and operator, CNNC oversees billions of dollars worth of planned projects, as China aggressively expands its nuclear power capacity. It has a Hong Kong-listed firm, CNNC International.
Government plans announced in recent years call for nuclear plants to supply 4 percent of China's power needs by 2020, up from about 2 percent now.
China plans to build five nuclear power stations this year to reduce the country's reliance on coal and oil. It now has six nuclear power plants, all on the east coast.
Kang was named among the "Top Ten Talent Managers of China" in 2007.
He attended the signing of the strategic agreement between Chenzhou city, Hunan province, and CNNC at Diaoyutai State Guesthouse in Beijing on July 27, which was believed to be his last public appearance.
Related readings:


 China's nuclear chief comes under displine investigation


 Discipline official sacked for discipline offences


 China urges US to accomodate DPRK's 'security concerns'


 DPRK drops six-party talks, open to new dialogue
Kang was appointed to his position by the State Council, or China's cabinet, in 2003.
He is among several high-ranking public figures caught up recently in disciplinary offense probes.
Chen Tonghai, the former chairman of Chinese oil giant Sinopec Corp, was sentenced to death in July with a two-year reprieve, in what is believed to be China's biggest bribery case.
Chen, 61, was convicted of illegally receiving 196 million yuan ($29 million) between 1999 and June 2007, when he resigned abruptly as chairman of Sinopec.
In return for bribes, Chen helped others "seeking illegal interests" in company operations, land transfers and contracts.