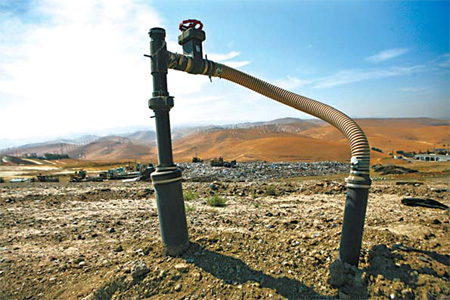 A pipe filtering methane waste to a generator which produces six megawatts of electricity stands at Waste Management Inc's Altamont Landfill in Livermore, California. [Bloomberg News]
Shanghai Chengtou Holding Co Ltd is set to transfer its 40-percent stake in wholly owned subsidiary Shanghai Environment Group (SEG) to a local arm of the US-based Waste Management Inc.
In a statement on Tuesday night, Chengtou said it had sold the stake for 970 million yuan to Wheelabrator China Holdings Ltd, the Chinese arm of the US waste management services provider.
As early as March, Chengtou put the 40-percent SEG stake on the Shanghai United Assets and Equity Exchange, looking for a strategic investor. After more than four months of negotiations, Chengtou finally reached an agreement with Wheelabrator. However, the deal still needs approval from the Ministry of Commerce.
State-owned SEG is one of the largest companies in the environmental sector in China, with a total registered capital of 1.28 billion yuan. Its expertise is in city environmental industry investment and financing, operation and management.
Chengtou started to help SEG seek strategic investors after the latter's assets were injected into the listed company. SEG's total capital assets were 4.063 billion yuan, and its net assets totaled 1.85 billion yuan as of June 30, 2008, which means the 40-percent stake would be valued at 740 million yuan.
Wheelabrator China, which is registered in Hong Kong, is controlled by its US parent. Waste Management Inc is an expert in trash and waste removal, recycling and environmentally safe waste management services, and is listed on the New York Stock Exchange.
With a market capitalization of over $13 billion, the Fortune 500 company's sales exceeded $13 billion in 2008. It reported $1 billion in net profit last year. By the end of 2008, WMI's total assets were at $20 billion.
Related readings:


 SEG sells solar stake, to exit from industry


 Beijing to have more garbage facilities


 Rural palatial houses a waste of resources


 Fine we're no longer poor, but why waste? 
After transferring the 40-percent stake to Wheelabrator, the two parties would turn SEG into a joint venture, and Chengtou will maintain its status as the controlling shareholder. Furthermore, Waste Management Inc's technology and experience in the environmental sector will enhance SEG's competitiveness, Chengtou said.
Lin Feng, an investment manager from Sinolink Securities, said this was a win-win deal for both parties. "SEG will be able to narrow its technology gap with its international counterparts in waste-to-energy power plant development, as well as lowering its own cost in research and development," said Lin.
In addition, this was also a good opportunity for Waste Management Inc to enter the Chinese market, Lin added.