Investment from the central government on bilingual kindergartens in the tension-plagued western region of Xinjiang will more than double from last year's level to reach 830 million yuan ($121 million) in 2009, local officials said over the weekend.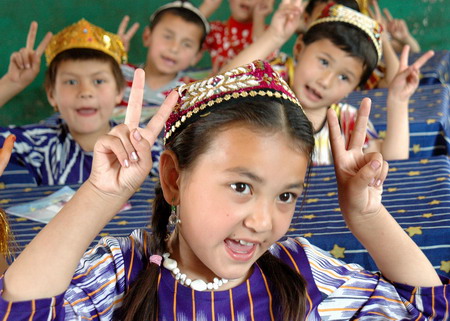 Children practice their language skills by playing games at a bilingual kindergarten in Turpan, a city in the eastern part the Xinjiang Uygur autonomous region.[China Daily]
The money will be spent on the construction and renovation of 465 bilingual kindergartens in Kashgar, Hotan and other parts of southern Xinjiang, a hotbed for terrorist activities that led to the July 5 riot in Urumqi, the region's capital city, Xinhua reported.
The riot, bloodiest in the history of the Xinjiang Uygur autonomous region, saw at least 197 people killed and more than 1,600 injured. Police sources say overseas forces that seek Xinjiang's independence through terrorism were behind the brutality.
Authorities hope bilingual education can be an effective cure in bridging communication among all peoples in Xinjiang, where 60 percent of the population is ethnic minorities, including the Uygur, Kazak and Mongolian.
"Terrorists from neighboring countries mainly target Uygurs who are relatively isolated from mainstream society, as they cannot speak Mandarin. They are then tricked into terrorist activities," Xinjiang's chairman Nur Bekri has earlier said.
Related readings:


 Xinjiang education efforts expanding


 Xinjiang mulls free senior high school education


 Xinjiang's poor students to enjoy free education


 Xinjiang to cultivate 55,000 bilingual teachers in 8 years
Bilingual education in the region, which was started around 1992, was designed to improve the standard of Mandarin among ethnic minority graduates, so they could be more competitive in the workplace, Nur Bekri said. Bilingual kindergartens are expected to accentuate the trend.
The government funded 214 bilingual kindergartens in southern Xinjiang last year, when it poured in 400 million yuan ($58 million). The kindergartens will be put to use starting this month, Ekenjan Tulahon, chairman of Xinjiang's Federation of Trade Unions, told a teleconference in Urumqi on Saturday.