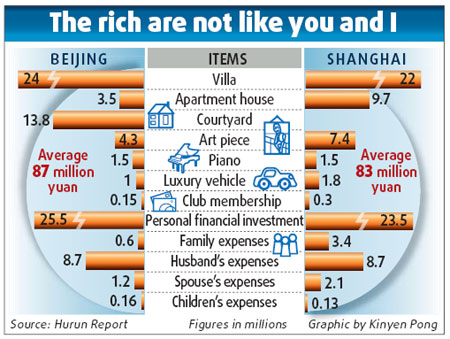 There are 51,000 people in China who are qualified to be called "new aristocrats".
That's according to the latest research by Hurun Report, which specializes in tracking the wealthy.
But not all of those "upper-class" tycoons are the same.
If you happen to be living in Beijing, you'd need to have at least 87 million yuan ($13 million) to spend on property, cars and other luxury goods.
For instance, that would include a Chinese painting by Li Keran, costing a whopping 4 million yuan or a 1.5 million yuan Steinway grand piano.
But a rich man in Shanghai aspiring to join the exclusive club needs to spend only 84 million yuan to pamper himself.
Related readings:


 Healthcare for the Chinese rich a growing market

 Set targets for rich people, not nations, in climate battle


Oversea education is overrated, rich chinese are wasting money.. 


 Make the rich pay more tax
The Hurun Report includes the qualifications to be upper class in four other cities: Hangzhou, Shenzhen, Chengdu and Shenyang, in descending order of extravagance.
In Shenyang, for instance, inclusion in the upper class calls for spending 33 million yuan, or about 38 percent of that required for Beijing.
If the Hurun upper-class spending list is any indication, a rich person in Beijing would be living in a 400-sq-m mansion in Ziyu Shanzhuang with an average market price of 24 million each. He is likely to be driven to work or play in a 1-million yuan Mercedes Benz R500 limousine.
To conform to the norm of the super rich in the capital city, this upper-class gentleman is likely to own a 14-million-yuan siheyuan courtyard house in Houhai area.
And, of course, he must be a member of the exclusive downtown Chang'an Club, where many big business deals are made. His personal wealth would also include at least 25 million yuan, managed by some top Swiss private banks.
His Shanghai counterpart lives a slightly more modest life, with a 22-million-yuan home near one of the city's most expensive golf clubs.
The rich person in Shanghai is more likely to drive for pleasure and the car he favors is, of course, a 1.75-million-yuan Porsche. He will, no doubt, have a chauffeur-driven BMW 750LI on hand to take him to business meetings.
For the sake of fung shui, a Shanghai upper class person has a soft spot for specially bred carps, five of which, together with a well-designed tank, can set you back a cool 100,000 yuan.
Commenting on the report, Hurun noted that escalating property prices in major cities have made the greatest impact on the lifestyle of the country's super rich. They locked a larger portion of their personal wealth in real estate, the report says.