The first meeting of the China-US Strategic and Economic Dialogue is due to be held in Washington today and tomorrow.
As the first episode of the new mechanism that has replaced the previous strategic economic dialogue (SED), the meeting will provide the two powers with an occasion for all-round and indepth talks on bilateral ties under US President Barack Obama's administration. What it will produce is expected to directly determine the future of Sino-US relations.
The dialogue should serve as an important platform for Beijing and Washington to evade risks, control crises and solve issues of common interest to push forward a smooth relationship. Since Obama took office, Sino-US relations have made steady and tangible progress although there still exist hidden troubles and risks, which, if not properly handled, could bring it to standstill or even plunge into retrogress.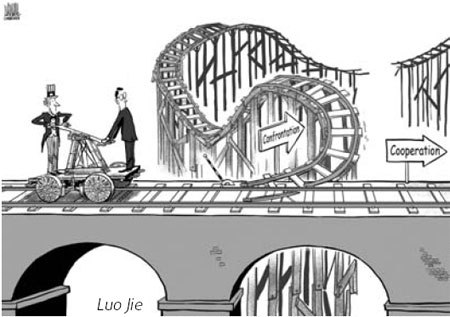 Take the South China Sea issue for example. Because of the lack of mutual trust, China and the US have always held varying stances on how to realize co-existence in that zone. The two countries have failed to work out effective ways to prevent a possible military conflict there, given their different interpretations of the International Maritime Law clauses and intervention of a third party. The South China Sea issue is by far the biggest tinderbox in any likely Sino-US military conflict and thus it needs to be addressed as a priority.
The deep disputes and conflicts between China and the US on the issues that closely relate to the former's core interests, such as Taiwan, Tibet and the Xinjiang Uygur autonomous regions, are likely to taint the improved Sino-US ties. Also, it still remains unknown whether the US will push forward a long-controversial arms sale to Taiwan in the remaining months of this year, or whether Obama will meet the Dalai Lama. What remarks Washington will make on China's Xinjiang will also test bilateral ties. If Washington is not careful, it could stoke the long-latent nationalist sentiment among Chinese people and thus affect their attitude toward the Obama administration. These are undoubtedly unfavorable to the development of Sino-US relations.
Related readings:


 China, US dialogue to focus on strategic, economic issues


 China-US dialogue to facilitate cooperation


 About US-China Strategic and Economic Dialogue 


 China to voice concerns over asset safety at dialogue with US 
Also, on a wide range of other issues, from climate change to anti-terror activities in Afghanistan and Pakistan, and global economic recovery, China and the US share both agreements and disagreements. Neither country has made any substantive progress on the issue of climate change, leaving uncertainties to the prospect whether Beijing and Washington, the world's two largest greenhouse gas emitters, can reach consensuses at the Copenhagen climate conference in December. China and the US have also failed to enact concrete and viable formulas to cooperate on anti-terrorism policies in Afghanistan and Pakistan, although they enjoy a common aspiration. In fighting the global financial crisis and striving to improve their economies, the two also sit in the same boat. However, they are far apart on how to reconstruct the collapsed international financial order and ensure China's financial security.
All these factors will impinge on the upcoming meeting between China and the US in Washington, ensuring it is placed in the context of a long-term development of bilateral ties.
The dialogue should open a new start for a new-type of Sino-US relationship featured as a two-plus-two meeting. It will surely provoke intensive international speculation about the long-mooted Group of Two and a China-US co-governance of global affairs.
As a concrete move to implement the concept reached between President Hu Jintao and his US counterpart Obama at a London meeting in April to replace the SED, the new and broader-range dialogue will help Beijing and Washington forge a new-two-plus-two (two officials from each side) mechanism. It would be much different from the two-plus-two model between the US and Japan, which is stamped with remnants of the Cold War and military alliance and is obviously targeted at a third party. Also, it would not be the same as the strategic dialogue established between the US and the Soviet Union during the Cold War period. As a dialogue between two rivals, the US-Soviet dialogue was aimed at containing each other but not promoting bilateral cooperation.
The high-level two-plus-two dialogue between China and the US in strategic and economic scopes will not only follow the current of power-to-power relations, but also comply with both countries' common aspiration, via communications and talks, to evade potential risks, seek cooperation and realize a win-win result. The dialogue, if it achieves success, will create a new model for co-existence and common development between an emerging power and an established hegemony in modern history. It also sends a message to the rest of the world that China and the US are not preoccupied with a so-called Group of Two or a co-governance, but are committed to be equal partners.
To ensure the dialogue's success, China and the US should try to find common grounds in the spirit of equal consultation and mutual respect. On the issues of climate change and emission reduction, Washington should understand Beijing's stance that the world's largest developing country undertakes common but differentiated responsibility and that attention should not be placed on a country's total emission alone; it should be placed on per capita emission. Also, the US should extend to China necessary technological assistance for the sake of its emission reduction. In the scope of security, China should show its willingness to cooperate with the US on anti-terror activities in Afghanistan and Pakistan, and Washington should also care about Beijing's concerns over Tibet and Xinjiang.
The author is director of the Institute of American Studies under the China Institute of Contemporary International Relations。