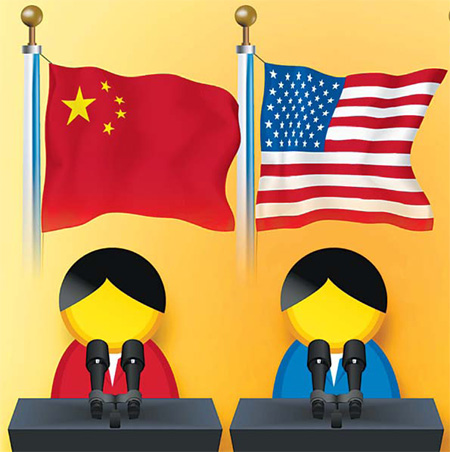 The current global financial crisis has brought into sharp focus the interdependent nature of the relationship between China and the United States.
"The financial crisis has shown that China and the United States are just like two sides of one coin," said Yin Zhongli, a senior researcher with the financial research institution China Academy of Social Sciences (CASS).
"The two are inseparable from each other. China cares as much about the US economy as the Americans themselves," Yin said.
The new China-US Strategic and Economic Dialogue (S&ED) is evidence of those strong ties.
The US Departments of Treasury and State last week announced that the first joint meeting of the S&ED will be held July 27 and July 28 in Washington, DC.
Although schedules have not yet been released, the US Department of Treasury stated in a news release that the first meeting will focus on bilateral, regional and global areas of mutual concern.
US Secretary of State Hillary Clinton and US Treasury Secretary Timothy Geithner will join their respective Chinese S&ED co-chairs, State Councilor Dai Bingguo and Vice Premier Wang Qishan, at the first meeting.
Related readings:


 US energy chief wraps up China tour 


 China increases US Treasury holdings


 China's holdings of US debt hit record high


 China-US climate teamwork evolving
S&ED is an updated version of the Strategic Economic Dialogue (SED) established in September 2006.
The new mechanism was established following the election of the new US president, Barack Obama.
"I am waiting to see the results of the new China-US dialogue, hoping that a new mechanism held by the Chinese government and the new leadership of the US government will create a new atmosphere," Wang Yizhou, a senior researcher at CASS told China Business Weekly.
Topics such as bilateral trade, foreign trade, energy and climate change likely will be discussed at the first S&ED meeting in late July.
But one of the more important topics likely will be the economy, with financial cooperation between the United States and China dominating conversations, analysts said.
"To put it bluntly, the United States must persuade China to buy more Treasury bonds or at least keep its current holdings," Zhao Xijun, a professor at Renmin University, said.