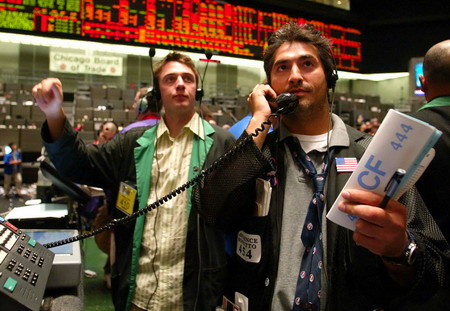 Traders in the 10-year Treasury note futures pit at the Chicago Board of Trade monitor the numbers. Experts say China should reduce its dependence on US Treasury holdings and look at other avenues like gold. [Agencies]
China, the biggest foreign holder of US Treasuries, increased its holdings of US government notes and bonds by $38 billion to $801.5 billion in May, according to a US Treasury report released on Thursday. The total amount, which exceeds $800 billion for the first time, was equivalent to 37.6 percent of its $2.13 trillion foreign exchange reserves then.
On the contrary, Japan, Russia and Canada were sellers of US assets in May. Japan, the second-biggest international investor, reduced its total holdings by $8.7 billion to $677.2 billion.
"The surge in May does not mean that China will continue buying more US debt in the future," said He Maochun, director of the Research Center of Economy and Diplomacy of Tsinghua University.
China has already tried to reduce its reliance on the US currency in some ways. It signed 650 billion yuan worth of currency swaps since December with six nations including Indonesia, Argentina and Belarus, and it is encouraging trading partners to use the yuan for cross-border trade settlements.
China previously announced it would buy $50 billion worth of bonds denominated in Special Drawing Rights, the International Monetary Fund's unit of account, to be issued by IMF. Russia and Brazil have committed to $10 billion each.
"China does not have a better option than the US Treasuries, which are relatively secure compared to other options," he said.
Related readings:


 China's holdings of US debt hit record high


 Bonds still good value for China


 Lower holding of US bonds 'response to weaker dollar'


 China's holding of US bonds drops first time in 11 months

Li Lianzhong, who heads the economics department of the Central Policy Research Office, said earlier that China should use more of its foreign exchange reserves to buy gold, energy and natural resources assets.
Li cited the high percentage of gold in the foreign exchange reserves of the United States, Italy, Germany and France, to argue that China's gold holdings, which accounted for about 1.6 percent of its reserves, are too small.
In addition, he believes that China should consider buying good overseas companies and also acquire technologies during the economic crisis.
The Obama administration is counting on countries like China to finance its expensive $787-billion economic stimulus and China has expressed concern about the prospects for the country's economy and the health of its investment.
"We have lent a massive amount of capital to the United States, and of course we are concerned about the security of our assets," Premier Wen Jiabao said during a March 13 press conference. "To speak frankly, I do indeed have some worries," he said.
Experts also suggest that the country should reduce the size of its trade surplus, either by importing more from other countries or by doing more overseas investment.
"We understand China's currency policy is aimed toward an eventual balance between inflows and outflows. But for now, inflows are dominant," said Patrick Bennett, Asia Foreign Exchange & Rates Strategist with Societe Generale in Hong Kong.
Bennett believes that a modest appreciation of the Chinese yuan would also work to slow inflows and would be a damping influence on the trade surplus.