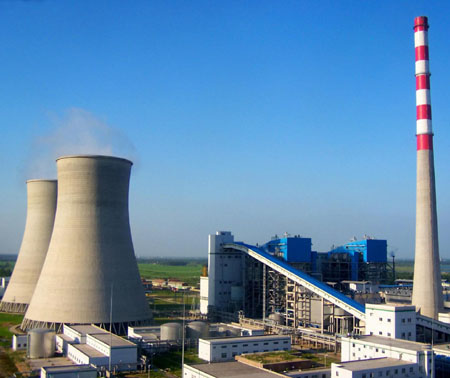 Robust industrial demand is set to boost power output in the country.A power plant in Huaibei,Anhui province. [China Daily] 
China's power generation is expected to see solid growth in the third quarter, in line with the recovery in industrial activities, industry insiders said yesterday.
Power generation is expected to rebound in the third quarter, ending the consecutive drop in the first five months, said an executive with State Grid, the country's main power transmission company.
Recovery in economy plays a vital role in the rebound, he said. Some regions that have many high power consuming industries have seen robust growth in power demand in July.
The high temperature in the summer will also push up the use of electricity, he said, asking not to be named.
Affected by the financial crisis, power generation in the second half of last year was relatively low, which made it possible for large growth this year, he added.
Related readings:


 China reports record daily power generation in early June


 China's power generation drops 3.5% in May


 Alternative Power Generation in China


 Greener power generation
China's power generation began to see first year-on-year increase in June, with growth rate of 3.6 percent, according to State Grid.
Statistics from State Grid showed that in the first 10 days of this month, China's power generation increased by 3 percent on average on a daily basis.
One source with the company said that in some high energy consuming regions, such as southern Hebei province with a large number of steel mills, power generation saw growth of 26 percent. In Henan province, which also has many steel production facilities, power output saw 11.6 percent growth.
"This shows that some heavy manufacturing industries, which account for a large part in total power use, have seen distinct recovery," said the source with State Grid.
China's power generation has seen negative growth in the first five months of this year. In April the figure dropped by 3.55 percent year-on-year. In May the figure declined by 3.5 percent.
Xue Jing, director of the statistics and information department under the China Electricity Council, agreed that increasing industrial activities and the heat wave contributed to the power consumption and output, but said more prudent observations are needed to tell whether the economy would embark on a new round of growth.
"Although the power generation and consumption began to pick up, we cannot be too optimistic about the figure," said Xue.