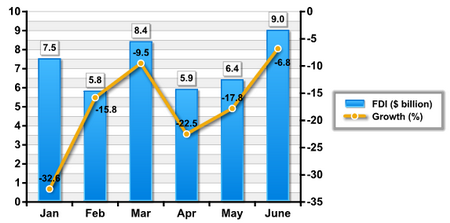 [chinadaily.com.cn]  
Foreign direct investment (FDI) in China fell in June for the ninth straight month, but the decline narrowed, adding to signs of an economic recovery, the Ministry of Commerce said Wednesday.
Actual FDI in June totaled $9 billion, down 6.8 percent from a year earlier, while the number of new approved foreign companies totaled 2,529, down 3.8 percent, ministry spokesman Yao Jian told a news conference.
The FDI drop compared to a 17.8 percent fall in May, likely another sign of improvement in China's economy.
Yao said the scale of investment withdrawal and reductions by foreign companies has increased in the last nine months, battered by the global financial crisis.
"It indicates that we are still facing very big difficulties attracting foreign investment," Yao said.
In the half year ended June 30, actual FDI in China declined by 17.9 percent, totaling $43 billion, compared with the same period last year.
Yao said recent investigation of employees of Rio Tinto Ltd, an Australian iron ore supplier, wouldn't affect China's investment environment.
Related readings:


 China's FDI falls 17.9% in H1


 Foreign investment freefall eases


 Outbound investment unlikely to outstrip FDI


 Used FDI down 20.4% in first five months in China
"The confidence of foreign investment in China's legal environment has strengthened during China's 30 years of opening up. This single case won't affect China's trade and capacity of attracting foreign investment at all," Yao said.
China is due to release a slew of economic data, including GDP growth for the first half of the year, on Thursday. Expectations of a revival in the economy have pushed the stock market up to a 13-month high.
FDI last year rose 23.6 percent $92.4 billion in 2008 from the previous year, though growth began to weaken toward the end of the year.