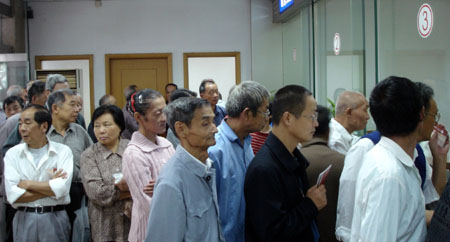 Senior citizens wait to be served at a bank in Suzhou, Jiangsu province. The national pension fund may reduce its investment in stock market to avoid risks and ensure fund safety. [China Daily]
China's national government pension fund, the Social Security Fund (SSF), may cut its stock investments in the second half despite that it made a 9.99-percent return on equity investments during January to June, analysts said.
SSF, which is estimated to have invested around 16 percent of its 660 billion yuan ($96.63 billlion) worth assets in stocks in the first half, may cut its share holding slightly as the market is expected to lose some of its growth momentum in the second half, they said.
The government pension fund had made a 9.99-percent return on equity investments in the first half, it said in a statement posted on its website on Friday. That in turn was helped mainly by the robust growth in the nation's stock market, with the Shanghai Composite Index rising by nearly 63 percent in the first half.
"The market performance in the second half may be more volatile than the first half due to the uncertain macroeconomic outlook, hence the SSF may cut its capital market holdings slightly," said Liu Mingjun, fund analyst, China Cinda Securities.
Analysts pointed out that the Shanghai Composite Index might hit a ceiling of around 3,500 to 3,700 points in the second half.
Related readings:


 SSF reports first annual loss since founding


 Volatile market chips SSF returns


 National pension fund registers 9.99% gains in H1


 Pension fund chief: China to further expand overseas investment
Bao Qing, analyst, Shanghai-based Donghai Securities, agreed with Liu, saying that SSF's better-than-expected performance in the first half and the volatility of the market in the coming months may see the fund cut its stock holdings slightly to ensure safer investment returns.
SSF increased its holding of stocks in the fourth quarter of last year when the stock market plunged as much as 65 percent in 2008. The fund lost 6.79 percent on investments last year as the nation's stock market plunged, according to the fund's annual report.
But analysts pointed out that the cut might not be that significant considering SSF's role as a market stabilizer.
"SSF's stock holding is estimated be around 16 percent of its total portfolio in the first half, which is very low compared to some mutual funds, who invest as much as 70 percent of their portfolio in stocks," said Liu. "There is not much room for a big cut," he said.
SSF made a profit of 51.2 billion yuan from investing in stocks in the first half. Its assets exceeded 660 billion yuan at the end of June. The agency's holdings will rise to more than 740 billion yuan after it receives shares from listed companies under a government program, it said in Friday's statement.
China's Ministry of Finance published rules in June that require the transfer of 8.4 billion State-held shares in 131 listed companies to the fund. The stocks will be barred from trading for another three years after the existing lock-up periods expire.
State-owned companies selling stock publicly for the first time after 2006 must hand over shares equivalent to 10 percent of the total offering to the nation's pension fund, according to the regulation. The move aims to fill a funding gap in retirement benefits for China's aging population and also help boost investor confidence in the stock market, the pension fund said in a recent statement.