Jorge Mora, CEO of Veolia Environnement Asia, has been living in China for 15 years. He uses the phrase "day and night" to describe the country's progress in environmental protection during those years.
"When I first came here in 1994, it was like the dark of night. Nobody was concerned about the environment," Mora said.
"But now it's like a sunny day. Everyone is talking about the green economy," he said.
The French group Veolia Environnement established an environmental services division in China in 1995.
Mora said the company landed its first project in China in 1997, and its second in 1999.
By 2000, the company was on track for faster growth, he said.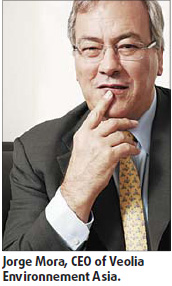 Veolia Environnement China has experienced "between 10 and 15 percent annual growth in the country in the past few years," Mora said.
The company has four major business sectors: water management, waste management, energy management and transportation.
Veolia's growth strategy for each of the sectors is "to let each of them go as far and fast as we can," Mora said.
"But we have to do that step by step," he added.
"Water management will continue to be our largest business in the country for a long time," Mora said.
Veolia is now involved in 27 water management projects in 21 Chinese cities. Projects range from water production to water distribution.
Veolia in 2002 won a 50-year water supply operation and management contract for Pudong in Shanghai.
Mora said the public/private deal represents the first outsourcing contract allowing a foreign company to provide a full range of services, from drinking water production and distribution to customer service.
Veolia in 2006 formed a partnership with Yanshan Petrochemicals, a subsidiary of Sinopec in Beijing, in a joint venture to operate facilities to collect, treat and recycle industrial wastewater at Yanshan's industrial complex.
Related readings:


 Veolia chief takes big pay cut 


 Veolia to expand in China as urbanites produce more waste


 Veolia wins 1.6b euros water network contract in Lanzhou
The treatment facilities consist of four wastewater treatment plants with a total capacity of 129,000 cu m per day and two recycling units that will re-inject water into the manufacturing cycle. The recycling units have a total capacity of 40,000 cu m per day.
The facilities will treat water from the refinery and the six petrochemical units that make up the Yanshan industrial complex.
Mora, who has been CEO of Veolia in China for ten years, is optimistic about the prospects for growth in China in coming years.
"China is expected to account for 10 percent of our global revenues in five years, when the country would become our third-largest market behind Europe and the United States," he said.
"China is expected to surpass the United States to become our second-largest market within the next 10 years," Mora said.
Veolia's revenues last year in China totaled about $2 billion -- about 3 percent of the international company's total numbers.
"But the potential here is great," Mora said.
"In fact, in terms of business activities, we are almost at the same level as the US. But we are selling lower-cost products here," he said.
The ongoing global financial crisis has had only a "slight" impact on Veolia's business in China, Mora said, since the company relies on long-term contracts.
However, due to the economic crisis, the company is not expecting more than 3 to 5 percent growth in the Chinese market this year, Mora said.
Mora said China's 4 trillion yuan stimulus package would only "moderately" benefit Veolia, since most of the stimulus investments focus on infrastructure projects.
"But it (the stimulus package) is good news for the world. It shows that China, which is the world's fastest-growing economy, is being proactive in the face of the current global financial crisis," he said.