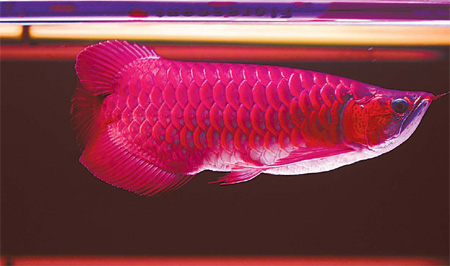 Red dragon fish have become popular in China, partly because of their excellent feng shui. Courtesy of IIKP China
Forget gold bars, marquee cars and fancy houses. Red dragon fish are the ultimate status symbols for a growing number of wealthy Chinese. The endangered species is traded legally and fetches up to 800,000 yuan ($117,000) for a perfect specimen.
And to prove their worth, unlike most commodities, they have doubled in value since the global economic crisis bit in September last year.
According to their owners, red dragon fish have excellent feng shui as they emanate strong yang vibrations to balance the yin of water, which attracts qi, or energy.
Beijing architect Liu Baohe, for example, has kept fish since he was young, raising various dragon fish varieties before investing in the red.
"It benefits my job and life by making me relaxed and happy," he says. "And I believe kindness to others results in good fortune."
Celebrities and high-profile investment bankers are among the growing circle of red dragon fish owners.
They are attracted by the fish's likeness to the dragon, a traditional symbol of China, with its elongated body, large eyes and mouth, metallic scales, and barbels on the chin that look like dragon tendrils.
They are also hooked on the idea of owning something so precious and rare.
"Their spirit and arrogance when swimming is just like a Chinese dragon," says Beijing civil servant Zhang Zhengqiang, who keeps fish ranging in price from 10,000 ($1,460) to 30,000 yuan.
"Their cost is reasonable because they're so rare and I can afford it."
The red dragon fish is close to extinction and listed by CITES (Convention on International Trade in Endangered Species of Wild Fauna and Flora) as an Appendix 1 animal, the highest classification.
There are virtually no wild fish left and a captive stock of 8,000 "breeders" are mostly held in farms by the Kapuas River in West Kalimantan, Indonesia, the only place they are native to.
They are notoriously difficult to breed anywhere else and this adds to the species' mystique.
The sale of Appendix 1 animals is usually prohibited but this convention was lifted in the case of the red dragon fish because it is bred in captivity and can therefore be sold, subject to restrictions.
First generation breeders cannot be traded, but second filial generation (F2) fish can.