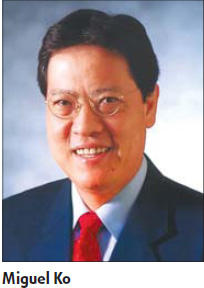 Executives of Starwood Hotels & Resorts Worldwide Inc hope an oversupply of rooms this year will quickly turn around and normalize in countries like China by 2011.
Miguel Ko, chair and president of the US-based hotel giant's Asia-Pacific division, told China Business Weekly that the global economic downturn is partly to blame for the lack of business and international travel.
Ko also cited the addition of new rooms built for the 2008 Olympics in Beijing and the Shanghai World Expo in 2010 contributing to the oversupply in China.
Ko said cities such as Beijing and Shanghai with large numbers of international travelers are bearing the brunt of the recession, especially among financial sector travelers.
Business travel volumes for Starwood hotels in Beijing and Shanghai fell by 25 percent year-on-year during the first six months of this year, Ko said, describing the numbers as "slightly better" than Starwood's competitors.
According to the National Tourism Administration, the year-on-year number of inbound travelers to China fell by 4.8 percent to 52.1 million during the first five months of this year.
However, Ko said, some emerging cities in China such as Changsha in Hunan province posted growth despite the current economic situation.
Related readings:


 Downturn,flu take heavy toll on big hotels


 Survey: China's hotels could lead recovery


 Shanghai hotels to get user friendly


 Marriott expands despite slowdown

Ko said he expected business volume at Starwood hotels in China to decline by 10 percent this year.
Business, however, is expected to pick up next year and return to normal in 2011, he said.
"China's economy is looking very certain to rebound in the next two years to near double-digit growth," Ko said.
He cited forecasts projecting China will become one of the larger outbound travel markets by 2020, with 100 million trips outside of the country.
At Starwood hotels in China, domestic customers accounted for more than half of the company's business in the country this year, he said.
Starwood has deliberately slowed hotel construction plans around the world to adjust to the current supply-and-demand situation.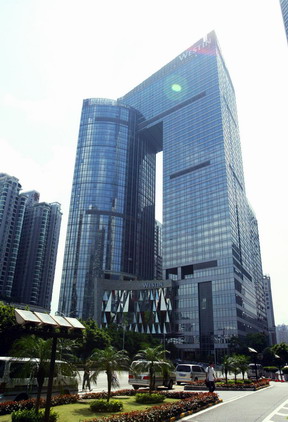 The Westin Guangzhou is among the growing number of hotels in China run by Starwood Hotels & Resorts Worldwide Inc. [File photo]
But the company reported that it "remains on track with its plan to double its footprint in China by 2011 with over 60 hotels in the pipeline."
After signing 29 new hotels in China last year, Starwood already has signed 11 more this year and plans to sign another 10 before 2010.
Starwood hotel brands such as Sheraton, St. Regis, Westin, Le Mridien, Four Points and Aloft already are operating in China.
Starwood is planning to launch its Luxury Collection brand in Shanghai and Tianjin in the near future, Qian Jin, Starwood's senior vice president for operations in China, said.
Qian said the construction of a W brand hotel in Shanghai is on schedule, and that Starwood is looking for locations to introduce an Element brand hotel in China.
Starwood opened a new hotel customer contact center in Guangzhou, Gaungdong province, on June 22.
The Guangzhou center, one of eight Starwood customer centers worldwide, will employ 400 full-time workers, Ko of Starwood Asia-Pacific said.
Ko said Guangzhou was chosen because so many people in the gateway city speak Putonghua, Cantonese and English.
Starwood has 960 hotels in 97 countries, including 140 hotels in the Asia-Pacific region.
The company anticipates a 40 percent increase in the number of Starwood hotels within the next five years.