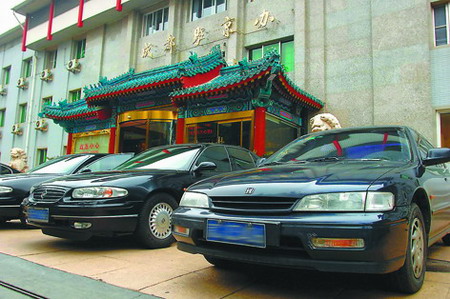 Officials' sedans parked in front of the Beijing liaison office of the Chengdu government. The central government will start to assess both the economic and environmental development efforts of local government officials. [CFP]
China's leadership recently decided to assess the performance of government officials not just by how fast they managed to spur economic growth but also by the environmental soundness of that growth.
This was a continuation of measures China rolled out during recent months highlighting its commitment to turn financial risk into a green recovery.
In early June, Premier Wen Jiabao affirmed that China would put in place carbon emissions reduction targets in national development programs. In other words, China would assess its economic performance by how much less carbon it would emit per unit of GDP growth.
Experts believed the decision and announcement had "ample policy implications". They said that once commitment was translated into action, China would accelerate the pace of restructuring its energy mix and economic structure, and seek a "green recovery path" out of a worsening financial crisis.
"These are vital decisions and pledges. The implications will largely go beyond China's stated commitment to fight global warming," He Jiankun, deputy head of the State Council's Expert Panel on Climate Change Policy told China Business Weekly during an exclusive interview recently.
He said China might be considering reduction of carbon emissions per unit of GDP as early as the start of the 12th Five-Year Plan (2011-15), and that it would decide the career path of bureaucrats by their performance in carbon reduction.
If that were the case, China would enter a new era in terms of climate change policy compared with its 20-percent energy saving target for the 11th Five-Year Plan (2006-10).
"To reduce carbon intensity, we should focus on low-carbon technologies and clean solutions," He said. "That will be the new economic engine for China's further growth."
China is expected to witness steady economic recovery when its GDP likely climbs to 8 percent after the current economic downturn.
Vice-Premier Li Keqiang has repeatedly voiced the central government's desire to find new growth points to sustain economic development.
Li has pinned high hopes on efforts to tackle climate change, develop clean energy and strengthen environmental protection. "If we take action on all these fronts, then it can help us shake off the negative impact of the global recession," he has said.
Liu Qi, the deputy director of the National Energy Administration, said his colleagues were working on a new energy development draft following instructions from the State Council, the nation's Cabinet. This would be ready for approval as soon as possible, he said.
Liu said that new energy programs would involve investment of trillions and that new energy output was likely to exceed the targets set by the nation's overall energy and renewable energy plans.
The first phase of the program would see a strategic shift in three years to nuclear, solar, wind, biomass power and clean coal technologies - with investment opportunities worth as much as 3 trillion yuan ($438.9 billion), Liu said. Phase two encompasses the period up to 2020 and would entail far more investments, he pointed out.
The research panel of the National Development and Reform Commission (NDRC), the nations' top planner, has predicted that China's clean energy development strategy would create huge investment opportunities for private and State investors.
China needs to spend at least 40 trillion yuan by 2050 to go 'green', according to the expert panel of the NDRC's Energy Research Institute.
"Roughly, we need to spend an extra 1 trillion yuan every year to raise energy efficiency," Bai Quan, a senior member of the panel, said. The panel will publish its research findings on China's low-carbon roadmap this month.
Explaining the mathematical model that his colleagues had built, Bai said the money would be mainly used to introduce technologies that raise the energy efficiency of end-users in industry, construction and transportation.
If the investment showed results, it would mean the country's per capita greenhouse gas emissions would increase by only 50 percent during the 2010-50 period - to 6 tons from the present 4 tons. Per capita emissions stood at 3.58 tons in 2004.
The target could be made a national goal, given that per capita income is expected to increase 10-fold to 200,000 yuan by 2050 from 20,000 yuan in 2010.
Jiang Kejun, another researcher at the NDRC institute, said the project would offer a low-carbon alternative for the consideration of top policymakers.
Related readings:


 China's economy transforming in green revolution


 China: Economic plan won't compromise environment


 China opposes carbon tariffs on imports


 Make 'green industries' new growth engine

Low-carbon emissions should be made standard State policy, at least in the 13th Five-Year Plan (2016-20) if not in the 12th plan period itself, Jiang said.
He Jiankun said the country's carbon dioxide emissions were likely to peak in 2035, at 8.8 billion tons, when industrialization and urbanization would be in an advanced stage, compared with around 5.5 billion tons in 2010.
Spending on climate increased nearly 100%
But from 2035 to 2050, emissions would remain stable or decline marginally if the proper technological route was followed, He said. "This is our ideal carbon map," He said.
The government's stimulus effort has already won international recognition. The Washington-based World Resources Institute said recently that about 38 percent of China's stimulus package investment was "directly or indirectly" related to environmental protection.
The Ministry of Finance said that, between January and May, spending on environmental protection rose 93.5 percent over the corresponding period last year.
Despite the low-carbon roadmap and the central government's commitment to sustainable development, some regions in China had yet to make progress in "green recovery."
Li Ganjie, the vice-minister of environmental protection, said the central government would continue to pump enough investments into environmental protection. "But, I doubt whether the local governments would be able to fully implement these environmental standards," said Li.
To change the situation, He said the solution was to alter the assessment system of officials. "If we fire them when they fail in environmental protection and carbon reduction goals, our economy will see more sustainable development."